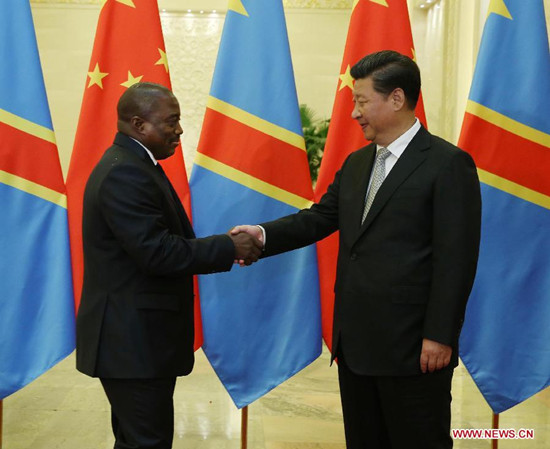 Chinese President Xi Jinping (R) meets with Joseph Kabila, president of the Democratic Republic of Congo, in Beijing, capital of China, Sept. 4, 2015. (Xinhua/Liu Weibing)
Chinese President Xi Jinping met Friday with Joseph Kabila, president of the Democratic Republic of Congo, urging the two countries to boost bilateral relations.[Special coverage]
Xi expressed appreciation for Kabila's attendance at China's V-Day celebrations, stressing that it marks the friendship between the two peoples, and illustrates to the world Congo's resolution to safeguard peace.
Xi said that China, taking the bilateral relations from the strategic and forward-looking perspective, is willing to work with DR Congo to deepen mutually beneficial and friendly cooperation, and develop the strategic partnership to achieve win-win results.
The two sides are expected to keep close contacts between high-level officials, promote strategic mutual trust, and act in close coordination on significant international and regional issues, so as to safeguard together the interests of the developing nations, said the Chinese leader.
Xi also said that the two countries should innovate their pragmatic cooperation, expand the collaboration in infrastructure construction and the building of industrial capabilities, and facilitate the development in agriculture and forestry cooperation.
He added that China encourages and supports the exchanges between the two countries' local governments, youths, media and universities, as well as other people-to-people exchange.
China is willing to enhance the cooperation with DR Congo in peace and security issues, and help improve its peace-keeping capabilities, Xi said.
For his part, Kabila said he is happy to attend the V-Day celebrations, adding China's invitation means trust and encouragement for his country.
The president said that the bilateral friendship between the two countries has a long history, and he highly appreciates China's long-term assistance and support.
DR Congo will continue to consolidate and develop its strategic partnership with China, and promote collaboration in such areas as economy and diplomacy, Kabila said.