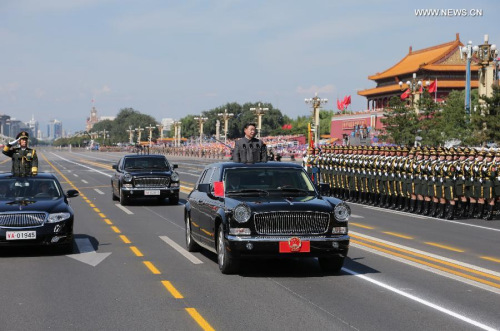 Chinese President Xi Jinping inspects troops during the commemoration activities to mark the 70th anniversary of the victory of the Chinese People's War of Resistance Against Japanese Aggression and the World Anti-Fascist War, in Beijing, capital of China, Sept. 3, 2015. (Photo: Xinhua/Li Gang)
Thousands of Chinese troops, along with their counterparts from 17 countries, marched past Tian'anmen Square; tanks and armor vehicles mounted with drones and missiles rumbled by. They were saluted by military aircraft roaring overhead.[Special coverage]
China put on a massive military parade Thursday to mark the 70th anniversary of the end of World War II and what it calls the Chinese People's War of Resistance against Japanese Aggression.
It was a picture-perfect parade to show the world how far the country has come after a bitter victory seven decades ago, and also how far it could go for its hard-won peace and order.
A PARADE FOR PEACE
In many ways, Thursday's parade - the 15th since 1949 and a part of China's larger WWII commemorations that have been in the run for months - was a first in the country. It was the first non-National day parade held by New China at the heart of Beijing, and the first to have invited foreign troops to march in it.
It was also China's first military parade observed by President Xi Jinping as the country's top leader.
On the Tian'anmen Rostrum where late Chinese leader Mao Zedong pronounced the birth of New China 66 years ago, Xi, dressed in a sharply cut, high-collared Mao suit, highlighted China's aspiration of peace.
"China will remain committed to peaceful development. We Chinese love peace. No matter how much stronger it may become, China will never seek hegemony or expansion. It will never inflict its past suffering on any other nation," said Xi.
Xi also announced in his speech that China will cut the number of its troops by 300,000.
The Chinese president was joined by dozens of heads of state and government as well as international organizations including UN Secretary-General Ban Ki-moon, Russian President Vladimir Putin, and Republic of Korea President Park Geun-hye.
The United States, Britain and France sent government representatives to attend the parade. Former German chancellor Gerhard Schroeder and former British prime minister Tony Blair were also present.
Their coming made the landmark event one with the widest foreign presence in the world among a series of V-Day commemorations.
The celebrations were set in motion by 70-gun salutes after Premier Li Keqiang announced its official opening.
The sun shone in a stunning blue sky, dispelling the last bits of the morning chill as well as the fatigue from more than 40,000 audiences who waited hours on roofless benches alongside the Chang'an Avenue.
Guards of honor marched on a red carpet that stretched between two Great Wall-shaped parterres in the Tian'anmen Square with huge signs that read 1945 and 2015, to raise the national flag to the March of the Volunteers - a popular wartime tune-turned national anthem - played by a 1,000-member military band.
"The victory of the Chinese People's War of Resistance Against Japanese Aggression is the first complete victory won by China in its resistance against foreign aggression in modern times," said Xi in his speech prior to the parade.
"This great triumph opened up bright prospects for the great renewal of the Chinese nation and set our ancient country on a new journey after gaining rebirth," Xi said in his about 10-minute address.
It's been 84 years since China was dragged into war following Japan's invasion of northeast China in 1931. In the fourteen years that followed, over 35 million soldiers and civilians were killed and injured in China, the main oriental theatre of WWII.
But the loss was not for nothing. Chinese archives revealed that over two thirds of Japan's ground forces were fought against in China during WWII.
Japan signed its formal WWII surrender on Sept. 2, 1945, and China celebrated its victory the following day.
"China's contribution and sacrifice during the Second World War is very much recognized, (China is) appreciated for all such sufferings, and sympathized by the world's people," UN Secretary-General Ban Ki-moon said last week in New York before traveling to China.
"It's important to look to the past, what kinds of lessons we have been learning, and how we can move ahead to a brighter future based on the lessons learned," he said.