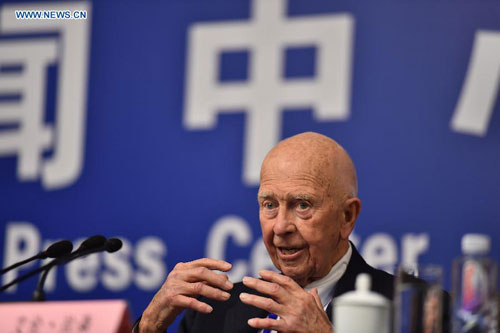 Flying Tigers' veteran Allen Larsen attends the 6th press conference of the press center of the commemoration activities of the 70th anniversary of the victory of Chinese People's War of Resistance Against Japanese Aggression and World Anti-Fascist War in Beijing, capital of China, Sept. 2, 2015. (Xinhua/Zhang Hongxiang)
Veterans of the U.S. "Flying Tigers" air squadron, which helped the Chinese fight the Japanese during World War II, have backed China's V-Day parade as an opportunity to commemorate the conflict and pay tribute to those killed. [Special coverage]
International reaction to the parade has been mixed, with some media questioning the political intentions behind it.
"I do believe that a military parade or a military demonstration following a conflict is necessary," said Flying Tigers member Allen Larsen at a Wednesday press conference ahead of the parade on Thursday.
"It is important to recognize those who participated in the conflict, some of whom never came back," he said.
Catherine Stevens, widow of Ted Stevens, who served in the squadron, said the parade would demonstrate Chinese progress since wartime. "I can understand why it is the way to celebrate, since China had so little at the time of the war. They seemed to have everything imported: aircraft, ships..."
"I'm assuming it's an opportunity for the Chinese people to show how far they've come in 70 years as they also remember the war," Stevens said.
Many foreign war heroes and their relatives will attend the parade.