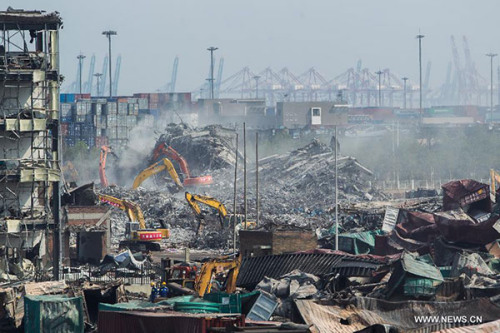 Rescuers work at the core area of explosion site in Tianjin, north China, Aug. 26, 2015. The death toll from the Tianjin warehouse explosions has risen to 139 as of Wednesday afternoon, and all of them have been identified, according to the latest data from rescue authorities. (Photo/Xinhua)
China's top procuratorate accused 11 officials and port executives of neglecting management of dangerous chemicals storage and transportation in the Tianjin port, where explosions killed 139 and devastated the port area.[Special coverage]
The officials from various government departments, including Tianjin local transportation management authorities, work safety regulatory agencies, land resources authorities, Tianjin local customs office and a state-owned port company, were probed for "dereliction of duty" and "abuse of power," according to a statement from the Supreme People's Procuratorate on Thursday.
Some of the accused organizations are Tianjin Transportation Committee for allegedly issuing illegal business license to the company; Tianjin Municipal Planning and Land Resources Commission for illegally approving the storage of dangerous chemicals; Tianjin Xingang Customs for opening a green way to the unqualified company and reportedly indulging in illegal activities; Tianjin Municipal Administration of Work Safety; and the Administration of Work Safety of Binhai district and Tianjin Port (Group) Corporation.
The prosecuted officials included Wu Dai, head of Tianjin Municipal Transportation Commission, and Zheng Qingyue, president of Tianjin Port Holdings Co., Ltd.
Ten people, including Director of Tianjin Municipal Transportation Committee Wu Dai; former deputy director of Tianjin Port Authority Li Zhigang; Deputy Director of Tianjin Municipal Administration of Work Safety Gao Huaiyou; are under investigation for alleged dereliction of duty. Deputy inspector from the Ministry of Transport Wang Jinwen has been charged and detained for abuse of power.
The police detained 12 suspects from Tianjin Ruihai International Logistics Co. Ltd, owner of the exploded warehouse that allegedly handled dangerous chemicals.
The police said the company and the detainees were suspected of illegally storing dangerous materials.
The detainees included board chairman Yu Xuewei, vice board chairman Dong Shexuan and three deputy general managers.
The police also announced the investigation of Tianjin Zhongbin Haisheng, a company suspected of illegally helping Ruihai acquire safety evaluation papers.
Further probe by the investigation team of the State Council for the Aug 12 Tianjin port accident is underway.