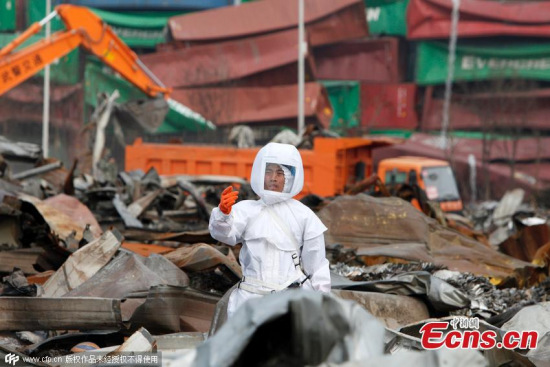 A chemical defense soldier monitors elements in the core area of the blast site in New Binhai Area, Tianjin, on August 24, 2015. (Photo/CFP)
Police have arrested 12 suspects involved in massive blasts in Tianjin which killed 139 and devastated the port area, the Ministry of Public Security said Thursday.[Special coverage]
The 12 people include chairman of Tianjin International Ruihai Logistics Co. Ltd. Yu Xuewei, vice-chairman Dong Shexuan, and its three deputy general managers, according to the police.
Read more:
Tianjin finds blast-hit buildings structurally safe
Eleven of the 12 apartment blocks worst hit by the explosions two weeks ago in north China's Tianjin have been officially classified as structurally safe.
The city's bureau of land resources and house management released its conclusions from an inspection of the buildings in a report on Wednesday.
The one block not identified as "Class-A" was given a lower rating because a fire-damaged apartment on the 19th floor had parts of its rebar exposed to air, said Zhao Yi, chief engineer with the team that conducted the inspection.
The defect will not affect the major structure of the building, according to Zhao.
On Tuesday, five state-owned property developers in Tianjin said they had formed an alliance to purchase blast-hit apartments from willing residents and re-sell them after renovation.
Two explosions ripped through a warehouse in Tianjin Port, sending a shockwave into nearby residential communities, at around 11:30 p.m. on Aug. 12.
The incident killed at least 135 people, and 38 others are missing.