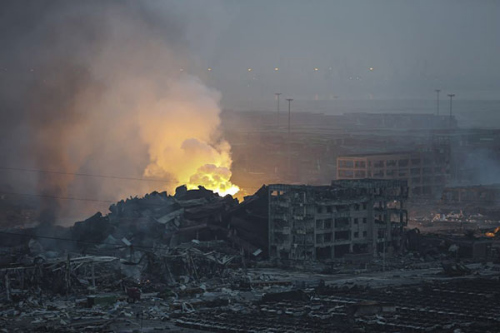 Residents that lived near the Tianjin Port blast site were forced to leave their homes because of toxic fumes. (Jia Guorong/For China Daily)
At least 123 people were killed after a massive explosion ripped through a chemical storage facility in Tianjin port earlier this month. Now residents want to know went wrong
Mystery still surrounds the massive chemical explosion at Tianjin port, which killed at least 123 people earlier this month.
At the center of the storm is Tianjin Dongjiang Port Rui Hai International Logistics Co, which stored toxic chemicals at the blast site. Residents living close to the storage facility have described it as an "arsenal".
So, what actually happened? Below, are the key questions being asked about the deadly disaster:
How did Rui Hai International obtain a permit to store toxic chemicals?
For many residents, that is the key issue.
The company at the heart of the police investigation is Rui Hai International, which stored chemicals at the site without, it is claimed, the knowledge of local authorities.
With registered capital of 100 million yuan ($15.7 million), Rui Hai International was set up in Dongjiang Free Trade Port Zone in 2012. The company's business facilities are made up of warehouses, storage terminals, storage yards, wastewater sumps and office buildings.
The company's website showed that it received a permit by Tianjin Maritime Safety Administration to operate storage and distribution works for toxic chemicals. These included calcium carbide, sodium nitrate and potassium nitrate for use in domestic and overseas markets.
Tianjin police has struggled to clearly identify the substances being stored at the blast site because the company's offices were destroyed. Confused documentation has also been a problem.
In another twist, Xinhua News Agency reported that Rui Hai International had only been granted a license to handle toxic chemicals less than two months ago. This poses the question: Had the company been operating illegally since October 2014 after its temporary license had expired.
Did the company flout government regulations?
That is impossible to say at this stage as the investigation continues, although there have been accusations.
Dong Shexuan, the deputy head of Rui Hai International, who holds 45 percent of the company's shares, is reported to be well connected with officers inside the Tianjin police force and fire service. Although details are sketchy, it has been alleged in The Beijing News that he met with officials of the Tianjin port fire brigade during a safety inspection.
According to claims from a senior official, who declined to be named, from the Industrial and Commercial Bureau of the Tianjin Binhai New Area, Dong gave fire service officers safety appraisal files, but an independent assessment of the site was not carried out. Dong, who is now in police custody, was unavailable to comment about these allegations.
What does appear clear is that Dong was given the green light for operating a storage facility close to a residential area. To many local residents, this appeared unusual as similar companies operating in the chemicals sector had been closed down by authorities.
So far, the police has detained senior managers of Rui Hai International, including Dong, as well as the son of a former police officer in Tianjin, and Yu Xuewei, a former State-owned company executive. Both are shareholders in Rui Hai International.
"Obtaining a safety risk assessment license should not be that easy," Zhu Liming, deputy head of the planning and land management bureau at Binhai New Area, said.
"It should involve not only the local fire brigade but also safety experts who have the experience and expertise in this area. They are needed to identify all the potential safety risks and should be part of the evaluation team," Zhu added.
To illustrate the depth of the disaster, the municipal environmental authority reported that high levels of toxic fumes, including carbon monoxide, nitrogen oxides and sulfur dioxide, were detected in the air up to 500 meters from the blast.