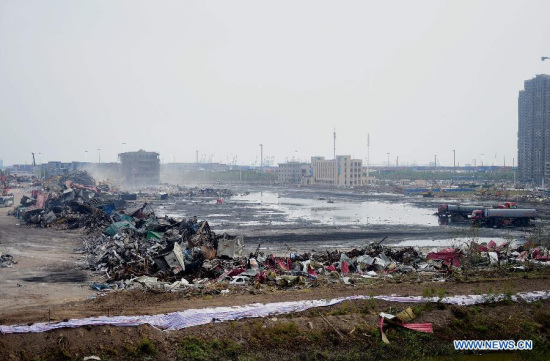 Debris near the core area of explosion site is cleared up in Tianjin, north China, Aug. 25, 2015. The death toll from the Tianjin warehouse explosions rises to 135 as of Tuesday afternoon, according to the latest data from rescue authorities. (Photo: Xinhua/Zhang Chenlin)
Rescue authorities updated the death toll from the Tianjin warehouse explosions to 135, with 38 others missing, on Tuesday.[Special coverage]
They had put the figure at 129 by Monday, with 44 missing. The update means six of the 44 missing have been confirmed dead.
All the dead have been identified, including 81 firefighters, seven policemen and 47 other people. The missing people include 23 firefighters, four policemen and 11 others.
Meanwhile, 582 people remain hospitalized, 36 of them in serious condition. A total of 216 injured people have been discharged from hospital.
Two blasts ripped through a warehouse in Tianjin Port where hundreds of tonnes of toxic chemicals were stored, including around 700 tonnes of sodium cyanide, at around 11:30 p.m. on Aug. 12.
The explosions also seriously damaged two residential compounds nearby and more than 3,000 new cars in a parking area close to the site.
Personnel are cleaning up the debris and chemicals at the blast site. Workers have partially restored power supply for some damaged buildings.
A total of 223 companies have resumed operation after a suspension due to the blast and 140 more firms are expected to restart production soon, according to local authorities.
The Tianjin Port is operating normally.
Thousands of the blast-affected people have turned to their relatives for shelter or returned to their hometowns. Only 95 people remain in a school used as a temporary sheltering point.
Police have detained executives of the warehouse's owner, Tianjin Rui Hai International Logistics Co. Ltd, including company head Yu Xuewei, a former executive at a state-run chemical company, and deputy head Dong Shexuan, son of a former police chief for Tianjin Port.
The State Council, China's cabinet, has promised a thorough investigation into the deadly blasts.