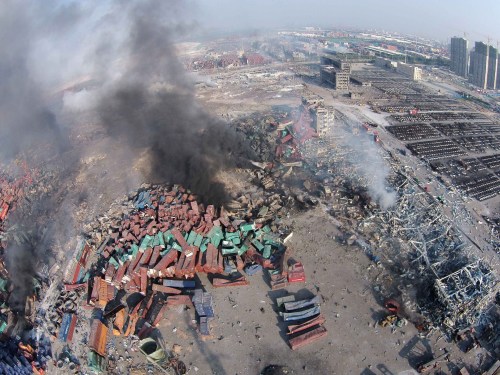 A bird's eye view of the explosion site in the Tianjin Port area on August 13 (XINHUA)
Chemical warehouse explosion leaves a trail of tragedy and devastation in China's port city of Tianjin
Many residents were asleep when a blast powerful enough to register as seismic activity ripped through the Binhai New Area in the metropolitan city of Tianjin in north China on August 12. [Special coverage]
The explosion, recorded at 11:30 p.m., came from a warehouse belonging to Tianjin International Ruihai Logistics Co. Ltd., used to store hazardous materials. People in nearby residential areas said flames lit up the sky in apocalyptic proportions and the blast blew up dust and clouds of acrid smoke dozens of meters into the air. The shockwaves were felt kilometers away, shattering glass across the city and leaving destruction in their wake.
Deadly explosion
Half an hour before the blast, a fire was reported at the warehouse and Tianjin fire brigade first dispatched 19 firefighters divided into three teams to the scene, before sending a further nine teams traveling in 35 fire engines there to ramp up rescue efforts.
By the time the reinforcements arrived at the site, however, the first three groups of 19 firefighters had, tragically, all been confirmed dead.
"I heard a huge bang while I was asleep," said a resident surnamed Liu at Qihang Garden, a residential community only 800 meters from the site of the explosion. "My mind went blank for a few seconds and then I dashed to my parents' bedroom. We all didn't know what had happened but the first reaction was to get dressed and go out."
The elevator was damaged by the explosion and they had to walk down the stairs, which were splattered with blood.
Liu, who had bought the apartment in Qihang Garden in 2013, said that on the way down she had a clear view of the carpark located close to where the warehouse had minutes before stood, where more than 1,000 newly imported cars had been parked. "The explosion burnt those cars dark and grey," said Liu. "It was like a scene of destruction from a high-budget science fiction movie."
The fallout in another residential community named Haigangcheng Community was even more severe. As the closest community to the warehouse, Haigangcheng is only 500 meters from the site of the explosion.
Yang Zhidan, a 35-year-old resident of the community, was also sleeping when the blast blew the windows off her apartment's exterior and the doors within off their hinges, leaving her son and husband injured by shattered glass.
People rushed into the streets still wearing pajamas. Some thought it was an earthquake. A video clip taken by a witness showed heavy smoke high in the night sky, shortly after a loud eruption unleashed raging fire.
Du Wenjun, who lived further away than Liu and Yang, also experienced a Hollywood-style catastrophic scene in his home. He saw a mushroom cloud rising outside his window following the powerful thumps of the explosion.
The running crowds caused heavy traffic congestions on nearby roads. "Everybody was in panic and didn't know what to do next," said Du.
By August 19, the explosion had resulted in 114 deaths, with more than 700 people injured and a further 65 missing.