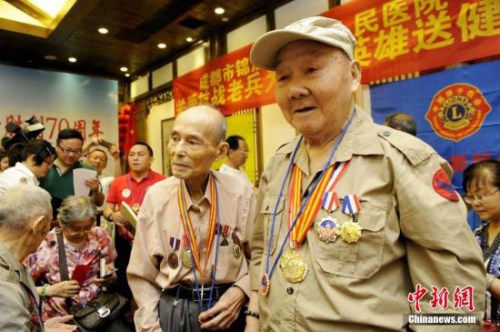 File photo of veterans from Chengdu, Southwest China's Sichuan province, who fought in Chinese People's War of Resistance against Japanese Aggression. (Photo/Chinanews.com)
China will increase the pensions of veterans who fought in World War II, starting in October, a civil affairs official said. It is one of a number of measures to honor veterans ahead of the Victory Day commemorations on Sept 3.[Special coverage]
Dou Yupei, vice-minister of civil affairs, made the announcement at a news conference on Monday.
World War II veterans currently receive a yearly pension of more than 7,000 yuan ($1,090), while some receive higher amounts in better-off parts of the country, he said.
Details of the increase were not revealed.
The central government has already offered a one-time subsidy of 5,000 yuan to the veterans as part of measures to honor them for their contribution ahead of Victory Day.
The country currently has more than 50,000 People's Liberation Army soldiers, military officials and other servicemen who fought in the War of Resistance against Japanese Aggression (1937-45), according to the ministry.
The subsidy will also be given to the more than 6,000 surviving veterans of the National Revolutionary Army, the military arm of the Kuomintang, who fought in the war but later joined the PLA or retired before the civil war, Dou said.
The subsidies will all be issued by the end of September.
Many veterans will be invited to the Victory Day events in Beijing next month, and some will either join the military parade or be in the audience at Tian'anmen Square.
Ma Feixiong, the Civil Affairs Ministry official in charge of veterans' affairs, said that the veterans, who are mainly aged over 90, would have access to 24-hour medical care at their hotels in Beijing.
The ministry also made public a second list of 100 State facilities and sites related to the World War II period, after issuing a first list of 80 sites in September 2014.
Dou said the country will step up efforts to protect historic sites overseas that commemorate overseas Chinese who fought the Japanese invading forces in China, or Chinese forces who fought overseas during World War II.
According to Dou, China is negotiating with Myanmar authorities to build facilities there to commemorate the Chinese Expeditionary Forces, a National Revolutionary Army force that fought in Myanmar from 1942 to 1945.