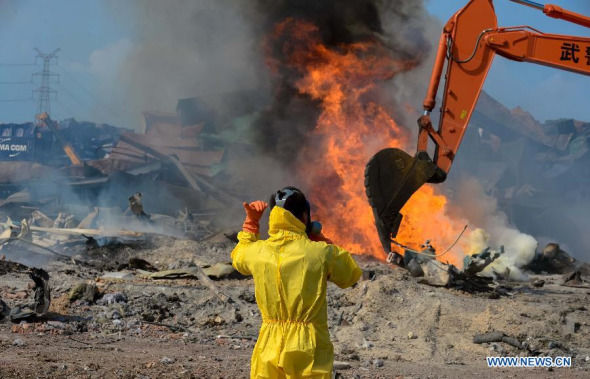 Rescuers clean up the debris at the blast site in Tianjin, north China, Aug. 23, 2015. The death toll from a warehouse blast in Tianjin has risen to 123, including 70 firefighters and seven policemen, authorities said at a press conference on Sunday. All victims' identities have been verified. (Photo: Xinhua/Yin Dongxun)
The death toll from a warehouse blast in north China's Tianjin Municipality has risen to 123, including 70 firefighters and seven policemen, authorities said at a press conference on Sunday afternoon. [Special coverage]
All victims' identities have been verified, according to Gong Jiansheng, deputy head of the city's publicity department.
Fifty people remain missing, including 34 firefighters and four policemen, nearly two weeks after powerful explosions ripped through the warehouses containing dangerous chemicals in Tianjin Port on the night of August 12, Gong said.
A total of 624 people are still hospitalized, including 44 critically or seriously injured. A total of 169 people have been discharged.
Zhang Guoxin, an official with the National Health and Family Planning Commission, said over 80 medical experts from across the nation along with 180 experts from Tianjin are trying their best to treat the injured.
Critical injuries included severe craniocerebral injuries and burns, Xi Xiuming, a medical expert, told the conference, adding that they still need time to recover.
The latest monitoring data showed that cyanide levels in samples from groundwater around the blast site and offshore sea waters were below toxic levels on Saturday, said Deng Xiaowen, head of the city environment monitoring center at the conference.
The water, containing cyanide levels higher than the national safety standard, was contained in the core area of the blast site and will be removed after being processed, he said.
Saturday's data from the five monitoring stations around the blast site revealed that the air quality in the area was good, Deng said, adding that no new contamination has been detected in the air so far.