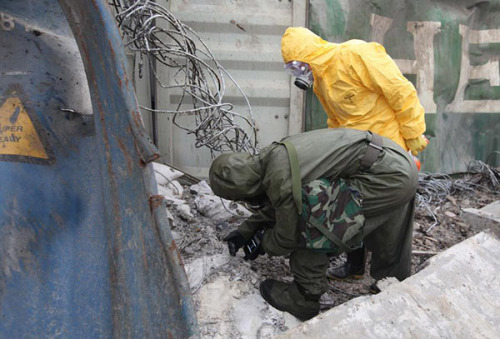 Rescuers clear the site where a warehouse exploded in Tianjin last week in this photo taken on Aug 19, 2015. (Photo/Xinhua)
Cyanide has been detected in the soil near the blasts site in Tianjin but the concentration is within national standard, an official said on Saturday. [Special coverage]
Sixteen of the 73 soil samples collected within a 5 kilometer radius of the blast's center have been found to contain toxic cyanide but none of them exceed the national standard, said Tian Weiyong, director of the Ministry of Environmental Protection's Environment Emergency Center.
"We will also test the deeper soil, the plants and animals and the surface of the buildings to ensure the safety of the environment," Tian said. Tian also said that they've added more soil monitoring to the existing and more urgent water and air monitoring over the past few days.
Meanwhile, Deng Xiaowen, head of the Tianjin Environment Monitoring Center, said on Saturday, seven of 26 water monitoring stations in the core blast zone have detected concentrations of highly toxic cyanide compounds exceeding the national standard with the highest being 54.6 times.
The air and water outside the core zone all proved to be within national standard, Deng said. By Saturday, the blasts on Aug 12 that rocked a warehouse storing hazardous chemicals in Tianjin Binhai New Area have claimed 121 lives.