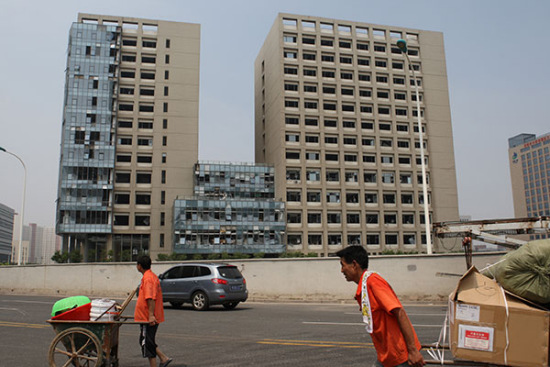 The windows of buildings 2 kilometers from the Tianjin blast site were severely damaged, raising questions about the use of safety glass. (Photo /China Daily)
The newly released safety assessment report on Ruihai International Logistics Co, which owns the warehouse that exploded on Aug 12, only included one of the few residential compounds near the deadly blast site in Tianjin.[Special coverage]
The report was not disclosed before the accident, which claimed 116 lives and left 60 missing as of Friday. The assessment company's website was closed after the tragedy happened.
The website was accessible on Friday and the 161-page report, completed by the Tianjin Zhongbin Haisheng Safety and Health Evaluation of Detection Co in February, only listed one residential compound, Tianbin Gongyu, 970 meters to the west of the blast sites. It failed to include several other neighborhoods that are closer to the warehouse, including Vanke Haigangcheng and Qihang Jiayuan.
Dong Shexuan, one of the company's owners, revealed after the accident that one company had refused to assess the warehouse's safety because it was too close to residential compounds, according to Xinhua. But Yu Xuewei, the company's other owner, then turned to Zhongbin Haisheng and worked it out.
The report said 19 safety loopholes were found, including that the types of dangerous chemicals stored exceeded the approved list and the problematic placement of the goods. However, it concluded "the company has solved the problems and the safety of the project basically meets the standard."
The validity of the assessment report was then confirmed in February by the Tianjin Research Institute for Water Transport Engineering under the Ministry of Transportation.