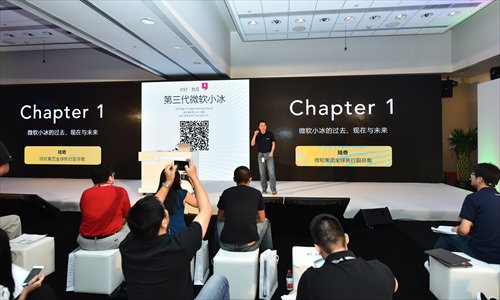 Lu Qi, executive vice president of Microsoft's applications and services group, speaks at the launch event on Thursday. (Photo: Courtesy of Microsoft)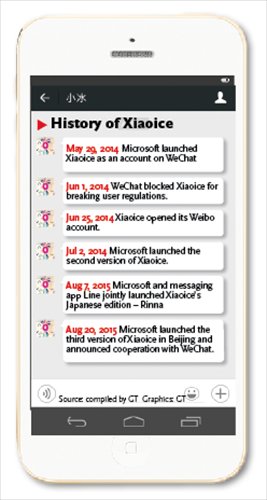 Will compete with Siri, Google Now in mobile Internet era
Microsoft Corp announced on Thursday that it has relaunched the chatbot service Xiaoice through Internet firm Tencent Holdings' mobile messaging app WeChat, more than one year after the service was blocked by WeChat.
WeChat users can add Xiaoice's public account as their friend and have conversations with the chatbot, which now can not only respond to text messages but also identify and react to pictures and voice messages sent by WeChat users.
Microsoft engineers showcased Xiaoice's latest features at a media event on Thursday.
The artificial intelligence chatbot can not only identify what it is in a picture, but also use emotions more effectively than similar products such as guessing the relationships of the people in a picture or realizing that someone has a new haircut.
Microsoft launched the Xiaoice service through the WeChat platform on May 29, 2014, attracting tens of millions of WeChat users in several days.
But on June 1, 2014, WeChat removed a number of chatbots on its platform, saying they violated WeChat's regulations and also threatened users' privacy.
Microsoft said on Thursday that the latest version of Xiaoice will be first tested among a limited number of WeChat users to ensure "the orderly development" of the service.
Tencent said in a statement released on Thursday that Xiaoice's user experience has been rapidly improved in the past year, and the cooperation will create more value for WeChat users.
Analysts said Microsoft's alliance with WeChat, which had 600 million monthly active users as of June, will help it quickly expand the user base of Xiaoice.
"Xiaoice's commercial value is the users' data it has access to," Ding Daoshi, deputy managing editor of IT website sootoo.com, told the Global Times on Thursday.
Xiaoice is also available on Microsoft's Windows 10 platform, as well as social networking platform Weibo, e-commerce platform jd.com and news portal 163.com.
Microsoft's chatbots have 40 million users in China and Japan.
Microsoft launched the service with mobile messaging app Line on August 7 in Japan and named the chatbot Rinna.
Lu Qi, executive vice president of Microsoft's applications and services group, told reporters at Thursday's event that Microsoft is also developing an English-language version of the chatbot.
"Xiaoice is an important part of Microsoft's artificial intelligence strategy," Lu said.
Microsoft also aims to commercialize the chatbot service.
Lu said enterprises can connect their WeChat accounts to Xiaoice so that they can use Microsoft's technologies in communicating with their subscribers.
Microsoft will not charge any fees to these enterprises, he added.
Microsoft's latest move signals the software veteran's efforts to gain traction in the mobile Internet arena.
"Microsoft has lagged behind other tech giants in the mobile Internet era, and it wants to release some innovative products to attract users," Li Yi, secretary-general of the China Mobile Internet Industry Alliance, told the Global Times on Thursday.
Google and Apple Inc have rolled out similar artificial intelligence functionalities - Google Now and Siri, respectively - for mobile devices.
Siri reached a cooperation agreement with Chinese search engine leader Baidu Inc on Wednesday, which allows Siri to show search results from the latter's Web-based encyclopedia Baidu Baike upon request by Chinese Siri users.
"But Chinese Internet users still have low interest in artificial intelligence products, which might hinder the development of the sector," Li noted.