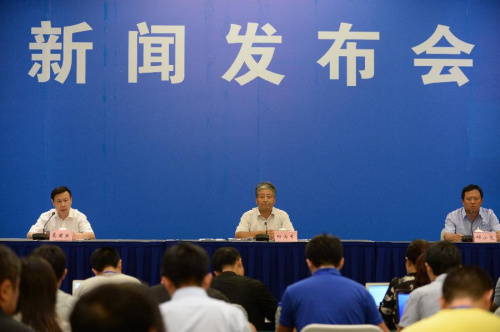 Tian Weiyong (C), head of the emergency response center with the Ministry of Environmental Protection, and Deng Xiaowen (R), head of Tianjin environment monitoring center, attend the 11th press conference of the explosion in Tianjin, north China, Aug. 20, 2015. (Xinhua/Yin Dongxun)
Chinese environmental officials on Thursday pledged comprehensive measures to control and treat leaked toxic chemicals from the Tianjin explosions.[Special coverage]
Authorities will speed up treatment of contaminated water in the exclusion zone set up round the blast site in the northern Chinese port city and will discharge the water only after it is safe, Tian Weiyong, head of the emergency response center with the Ministry of Environmental Protection, told a press conference.
Cofferdams have been built to block cyanide-tainted water in the exclusion zone. Authorities also have closed sewage outlets to the sea and used cement to block all drain outlets at the blast site to avoid pollution of water outside the site.
Contamination within the exclusion zone is much more serious than immediately outside of it, said Tian.
Official samples have found water in the zone contains quantities of cyanide up to 356 times safe levels, while the tests have found cyanide up to 8.2 times safe levels in water outside the zone. Most water outside the zone meets national safety standards, he said.
Vehicles leaving the exclusion zone are being decontaminated, and environmental authorities have set up 73 stations in a five-square-km area to detect and treat soil contamination, the official added.
Tian defended the authenticity of environmental monitoring data, including the air quality data released every two hours, responding to rumors that some of it had been faked.
Earlier, reports of a large number of dead fish in a river near the blast site stoked public fear over a leak of toxic chemicals.
Workers from local fishing authorities have taken samples for further tests.
Deng Xiaowen, head of Tianjin's environment monitoring center, said the deaths need further investigation but it is not uncommon for fish to die en masse in local rivers in summer, as the water quality is generally poor.
Last Wednesday night, two explosions ripped through a warehouse in Tianjin where hundreds of tonnes of toxic chemicals were stored, including roughly 700 tonnes of sodium cyanide.
The huge explosions have left 114 dead. Of the dead, 107 have been identified and 56 of the identified were firemen. Another 69, including 48 firemen, are missing.
In addition, 648 remain hospitalized, 53 of them in critical or serious condition.