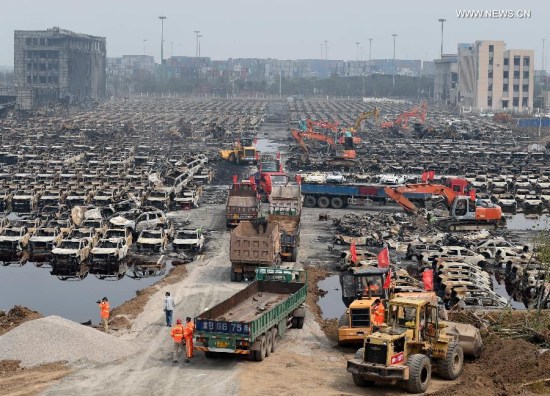 Rescuers and machines clean up burnt vehicles in the core blast area in Tianjin, north China, Aug. 20, 2015. (Xinhua/Zhang Chenlin)
China's cabinet has called for competent post-blast management to "absolutely prevent" major environmental incidents while promising to pin down every one behind the tragic event.[Special coverage]
"Operations are still in a key phase, and the follow-up management is also extremely complicated and arduous," said a statement released after a meeting of the State Council, the cabinet. The meeting was presided over by Premier Li Keqiang.
While stressing treatment for the injured, the statement urged authorities concerned to maintain full efforts to identify every person on the missing and victim list.
"The most advanced equipment and the most competent professional forces should expand the scope of the search for harmful substances, safely dispose of dangerous goods and conduct safety evaluations and clean surrounding buildings," it said.
Last Wednesday night, two explosions destroyed a warehouse in north China's Tianjin Municipality where hundreds of tonnes of toxic chemicals were stored, including roughly 700 tonnes of sodium cyanide.
"Major environmental incidents that harm people's health should be absolutely prevented," the statement said, calling for real-time monitoring and timely release of air, water and land data.
Firefighters who lost their lives in the disaster will be honored and their families should be given the same compensations.
The Tianjin municipal government was told to draft plans to deal with damaged buildings and compensate victims as quickly as possible and publicize information on post-blast management in an accurate and timely manner.
"Causes of the accident should be fully investigated, and the liabilities of each individual involved must be pursued," the statement said, citing key aspects such as the certifications for the company's business changes, safety evaluation, environmental assessment and the management of dangerous goods.
"Liabilities of those committing dereliction of duty or unruly acts should also be pursued so as to give people satisfying closure," it added.
Local government departments across the country were told to strengthen supervision over production safety, food and drugs and other key fields concerning people's lives.
Local authorities were told to rectify risks with the "strictest" standards and map out better emergency response plans.