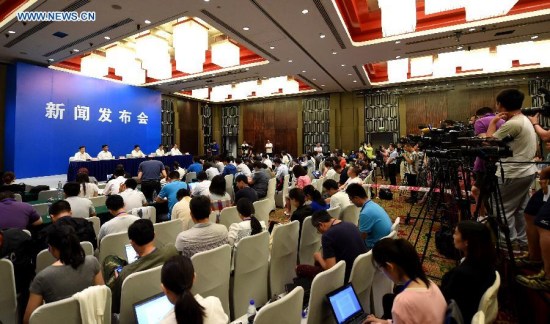 A press conference of Tianjin warehouse blast is held in Tianjin, Aug. 19, 2015. (Photo: Xinhua/Zhang Chenlin)
Tianjin Mayor Huang Xingguo said Wednesday that he bears responsibility for last week's fatal blasts.[Special coverage]
"As the chief of Tianjin Party committee and municipal government, I have an unshirkable responsibility," Huang told a press conference.
The two explosions that occurred at a chemical warehouse on Aug. 12 left 114 people dead with 65 others still missing, many of whom are firefighters.
Huang said the government would recognize firefighters who died in the line of duty. He proposed to build a memorial park at the blast site for the "heroes."
He pledged zero-tolerance for the company and personnel responsible for the blasts, "no matter who he is and what guanxi (connection) he has."
Responding to concerns about the local economy, Huang said that the damage caused by the disaster needs further assessment, but would not affect the fundamentals of Tianjin's economy.
He said the export and import of bulk commodities would not be affected in general. "The areas affected by the blasts only have 176 companies, most of them do not run import-export business," he explained.