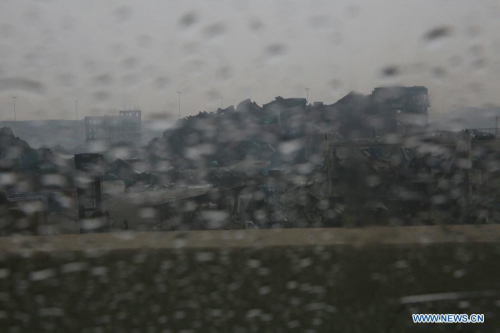 Raindrops are seen on the windscreen of a car near the explosion site in Tianjin, north China, Aug. 18, 2015. A rainfall began to hit the city on Tuesday. (Photo: Xinhua/Wang Shen)
No toxic cyanide was detected in rain that fell in the northern city of Tianjin, alleviating fears that precipitation might worsen pollution following last week's fatal blasts.[Special coverage]
Tianjin on Tuesday morning saw the first rain after the two explosions occurred at a chemical warehouse on Aug. 12, leaving 114 people dead and 65 others missing.
Cofferdams installed around the blast site were reinforced and air quality continued to be closely monitored on Tuesday over fears that rain could react with sodium cyanide, one of the chemicals stored at the warehouse, and release toxic gas.
Tianjin bureau of environmental protection chief engineer Bao Jingling said no cyanide had been detected in rain samples collected 7 kilometers from the blast site, which is a populated area.
None of the 18 air quality monitoring stations in the surrounding area of the blast site reported excessive cyanide on Tuesday, the same as Monday, while cyanide levels in water tested at eight of the 40 monitoring stations did exceed safety standards.
Responding to reports of "white foam" on the ground after the rain, Bao said ground water and soil from the reported location had been tested and was found to not contain excessive amounts of cyanide.
"I was caught in the rain for about ten minutes yesterday ... but I had no feelings of discomfort," the official said, adding that none of his monitoring team reported any discomfort.
"There have been no reports of civilians with chemical poisoning of any kind," he added.
Soldiers and rescuers are decontaminating the site, but the team had to temporarily halt the work due to rain on Wednesday morning .
Sodium cyanide releases the highly toxic hydrogen cyanide when it comes into contact with water.