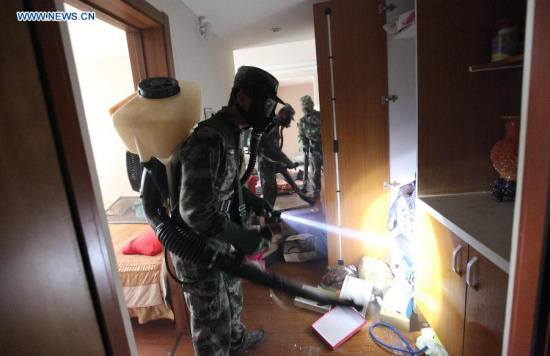 Military specialists in handling nuclear and biochemical materials decontaminate at a residential community near the core area of the warehouse explosion site in Tianjin, north China, Aug. 18, 2015. (Xinhua/Wang Haobo)
Chinese soldiers are clearing two emergency routes to aid access to the core area of two massive explosions at a warehouse in Tianjin last week, as nuclear and biochemical specialists begin decontaminating the site.[Special coverage]
The 340-strong nuclear and biochemical team, dispatched from Beijing, entered the core blast site on Tuesday afternoon and started cleaning the ground and surrounding facilities and buildings, according to military sources.
A total of 114 people have been confirmed dead, and 57 remain missing after the two huge explosions just before midnight on Aug. 12. The warehouse had held hazardous chemicals, including hundreds of tonnes of toxic cyanide.
The northern city witnessed light rain on Tuesday morning, stoking fears that rescue efforts would be disturbed and contamination would spread.h More than 300 police transportation professionals are clearing debris and rubble in the area adjacent to the core site, aided by large-scale search and rescue equipment.
A joint military rescue command has been established to coordinate operations by the army, the air force, navy and armed police forces. It is headed by Yao Xiaoxuan and Liao Keduo, commander and political commissar of the Tianjin garrison, respectively.