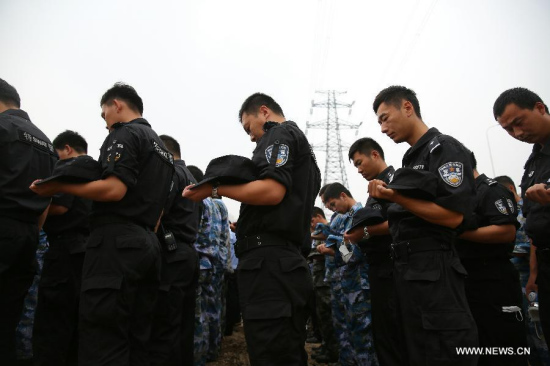 A mourning ceremony is held for the victims of the massive warehouse explosions at the blast site in Tianjin, north China, Aug. 18, 2015. The death toll from last week's massive blasts in Tianjin rose to 114. (Photo: Xinhua/Wang Shen)
After placing a bouquet of white chrysanthemum at the foot of their son's photo, the elderly couple would have collapsed had they not been supported by someone else.[Special coverage]
Zi Fuchang and his wife travelled almost 800 kilometers from Zhoukou in Henan Province, central China, to the northern port city of Tianjin, to bid a final farewell to their son.
Zi Qinghai, 20, had been a firefighter. He was one of the 114 people who lost their lives in massive explosions that tore through a warehouse last Wednesday. Fifty-seven others are still missing.
"Qinghai was due to end his service this September," his heartbroken mother, Guo Xianzhen, said, chocking back tears.
Qinghai's sister Zi Fangfang will forever be haunted by the image of her bother's body, which she had to identify.
"He was almost unrecognizable," she said. "His body bent over, and his right hand still clenched."
As rain fell from the darkened sky overhead in Tianjin on Tuesday, the seventh day after the blasts, mourners observed a moment of silence for the dead.
According to Chinese tradition, the soul returns home on the seventh day after death. It is typically a day spent in mourning.
Cargo ship's horns blared in honor of the dead, punctuating the heavy silence than hung over those that had gathered on that somber Tuesday morning.
Sirens were also rung as hundreds of Tianjin development zone firefighters bowed to 29 photos of their deceased colleagues.
At TEDA Hospital, where the wounded are being treated, staff arranged candles in the shape of a heart outside the entrance to the accident and emergency department.
More than 300 people, including officials from the Tianjin municipal government, also had a moment of silence in a garden in Binhai New Area, where the warehouse was located.
Firefighters, armed policemen, volunteers and relatives left flowers in front of a memorial wall, where a simple sign read: "Condolences to those who died in the Aug. 12 accident".
One woman, who asked to remain anonymous, told Xinhua that the day of explosions had been her birthday.
"I had just finished celebrating, when the building began to shake. I thought it was an earthquake," she said, sobbing. Her apartment was 10 kilometers away from the blasts site.
"The sky lit up. It was horrible," she said. "I will never be happy on my birthday again."