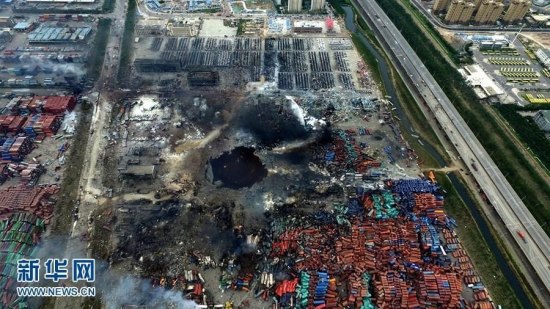 An aerial photograph taken on Aug 16, 2015 shows a huge hole at the center of the site of a series of explosions in North China's Tianjin municipality. The hole is filled with dark water.(Photo/Xinhua)
Volatile phenol, a toxic substance, was detected in water samples collected near the Tianjin Port for the first time, the State Oceanic Administration (SOA) said Tuesday.
Also, minute traces of cyanide, at 0.00103 mg/L, have been detected, a decrease from the density of previous day, which the SOA said does not pose a threat to the marine environment.
The findings were based on monitoring reports from Monday, according to the SOA.
Sixteen monitoring sites have been set up in the waters off Tianjin Port and the sea area east of Dongjiang Port, both in the municipality. A total of 250 samples were collected, an increase from the previous day.
Volatile phenol has been detected at four sites, with a density ranging from 0.00154 mg/L to 0.00498 mg/L for three sites, and a density of 0.00581 mg/L at another site.
Only the detected density of 0.00581 mg/L is "slightly higher than the normal limit" allowed for the first category of sea water quality, i.e., water quality able to sustain oceanic fishery industry and protected habitats for rare species, according to China's standard.
Two explosions ripped through a warehouse storing hundreds of tons of toxic chemicals, including roughly 700 tonnes of sodium cyanide, last Wednesday night. Death toll from the accident has risen to 114, with 692 people hospitalized and 57 still unaccounted for.