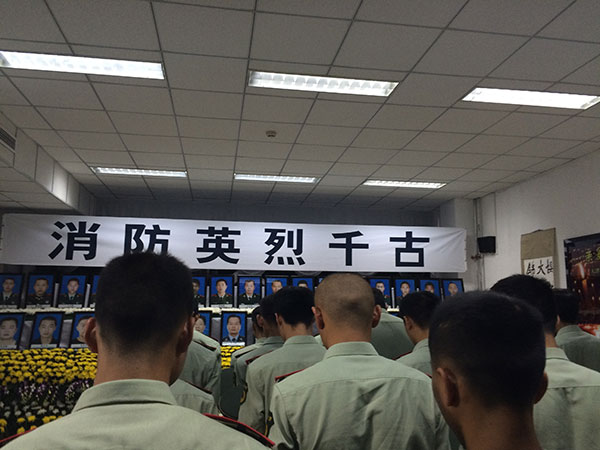 Families and colleagues mourn the victims and pray for those missing at the memorial hall in Binhai New Area fire-fighting unit in Tianjin on Tuesday, the seventh day since the blasts. According to Chinese tradition, the seventh day is a key occasion to mourn the passing of the dead.(Photo/chinadaily.com.cn)
Time: Morning, Aug 18, 2015
Location: Mourning hall set up by Binhai New Area unit of Tianjin Municipal Public Security Bureau's Fire department, Taihu West Road, Binhai New Area, Tianjin [Special coverage]
Interviewee: Zi Fuchang, father of 20-year-old Zi Qinghai who died in the fire-fighting operation in Tianjin blasts. He comes from Zhoukou city of Central China's Henan province.
"I miss him so much, so, so much. His mother has cried her eyes dry. I'm so sad but feel proud of him. He wanted to be a solider since childhood," said Zi as he fought back tears at the mourning hall.
Interviewee: Yin Dipeng, 28, firefighter with Taihu detachment of Binhai New Area unit of Tianjin Municipal Public Security Bureau's Fire department. He comes from East China's Jiangsu province. His fellow firefighter, Shao Junqiang, died during the fire-fighting operation in Tianjin blasts.
"He was a cheerful fellow. Look, he is even smiling in the portrait. Sometimes, I imagine I'm having a dream and he would come back when I wake up. I cannot believe that so many of my comrades are still missing. As long as there is no confirmation, I believe they will come back. We are waiting for them here," said Yin.
The wall beside the portraits of the dead firefighters reads "Comrades, we are waiting for your return", with names signed around it.
Interviewee: Sun Li, 44, a teacher who lives near the blasts site.
"I feel deep sorry for these young men. I am a mother and have a 21-year-old daughter. Many dead firefighters are younger than my daughter. It's so painful. When my daughter goes to school, I will miss her. I can understand what their parents feel," said Sun sobbing.