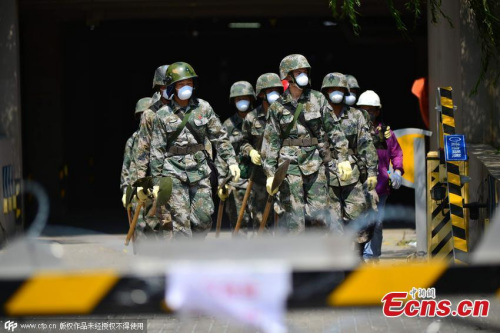 Some 1,100 soldiers from the pontoon bridge unit of Tianjin Garrison Command walk into residential areas hit hard by explosions in Tianjin, Aug 17, 2015. The soldiers will search for survivors and clear dangerous items. (Photo/CFP)
Rains are expected to complicate rescue efforts and may spread pollution at the Tianjin port, which was rocked by warehouse blasts last week.[Special coverage]
China's central meteorological authority has predicted a thunder storm over the blast site, where hundreds of tonnes of toxic cyanide still reside.
A chemical weapon specialist at the site told Xinhua that rain water may merge with the scattered chemicals, adding to probability for new explosions and spreading toxins.
Authorities have said the cofferdams built around the 100,000-square-meter core area of the blasts will receive constant reinforcement to prevent the outflow of contaminated water after it rains.
A total of 114 people were confirmed dead, and 70 remain missing after two huge explosions occurred before midnight on Aug. 12 at a warehouse for hazardous chemicals.
Officials said about 700 tonnes of sodium cyanide were at the blast site but remained mostly unaffected.