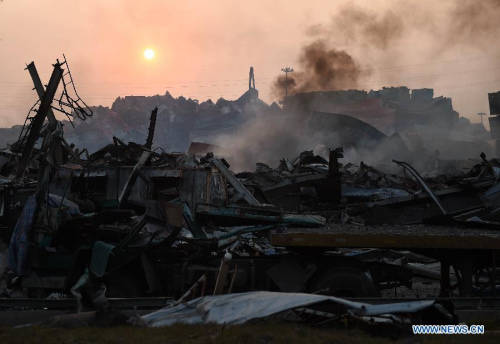 Photo taken on Aug. 16, 2015 shows the warehouse explosion site in Tianjin.(Photo: Xinhua/Zhang Chenlin)
Thousands of rescuers, soldiers and medics have been mobilized to search for the missing, clean up toxic chemicals and treat the injured after last week's Tianjin explosions.[Special coverage]
The death toll on Monday rose to 114 after a warehouse storing hundreds of tons of toxic chemicals exploded last Wednesday in the city of Tianjin. About 700 were hospitalized, thousands of cars were destroyed, and nearby buildings were damaged in the blasts.
Rescuers increased their efforts to clear dangerous chemicals at the blast site as rain predicted for Monday afternoon could create toxic gas.
The Tianjin environmental watchdog said it is closely monitoring the rain and its possible effect on the toxic materials.
More than 2,000 soldiers and armed police officers have been called to clean up an area with a radius of three kilometers, said Shi Luze, chief of staff of the Beijing Military Area Command.
Biochemical troopers finished their search of the core of the blast site and collected all toxic chemicals detected. They also removed toxic chemicals from the soil.
With 200 more biochemical troopers arriving on Monday, chemicals scattered around the periphery of the site are also scheduled to be cleared.
Tianjin Vice Mayor He Shushan promised at a press conference that all dangerous chemicals at the blast site's outer area would be eliminated by Monday evening.
A dam circling the blast site is being cemented to make sure polluted water will not leak to outside areas, said the vice mayor in charge of safety, who first appeared in public five days after the explosions.
The soldiers on Monday also started cleaning up chemicals stored in containers.
Leading chemical experts, biochemical troopers and environmental specialists are checking air conditions and nearby rivers to see if the pollutants exceed national standards.
Meanwhile, rescuers are combing residential quarters and an area of the harbor that they called "a maze of containers" for the 70 people who remain missing.
"Navigating through the blast zone is extremely dangerous because of the burning chemicals and twisted containers, which could collapse at any minute. We had to make marks in order not to get lost," said Wang Ke, who led a group of chemical specialist soldiers.
"We will keep searching as long as we are ordered to do so," the soldier said. "In previous searches, we found survivors more than 100 hours after the accident."