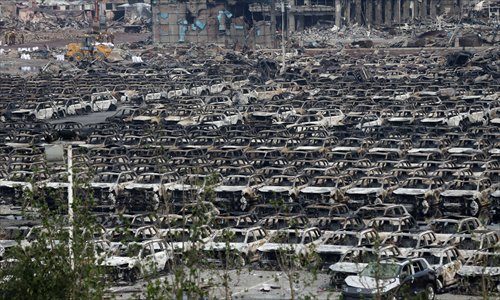 Hundreds of burnt cars still remain near the site of the warehouse explosions in Tianjin Monday. Around 10,000 vehicles from several major international automakers were damaged, leading to losses of up to an estimated 3 billion yuan. (Photo: Cui Meng/GT)
Owner of warehouse company son of former port public security head: report
Chinese authorities said Monday 3,000 tons of hazardous chemicals were stored in the warehouse in Tianjin where two deadly explosions occurred last Wednesday, China Central Television reported. [Special coverage]
Niu Yueguang, deputy director of the fire department of the Ministry of Public Security, said the chemicals included 700 tons of sodium cyanide, 800 tons of ammonium nitrate and 500 tons of potassium nitrate.
Most of the sodium cyanide was concentrated in a core area of about 0.1 square kilometers, which had been covered with soil and sand.
As for the rest of the chemicals, authorities said they have been combing an area within a radius of three kilometers in the past few days, and were expected to collect and neutralize all of them by Monday night, He Shushan, deputy mayor of Tianjin in charge of the municipality's work safety, said at a press briefing on Monday morning.
Wang Ke, who is leading a group of chemical specialist soldiers, told the Xinhua News Agency that navigating through the blast zone was extremely dangerous because of the burning chemicals and twisted containers which could have collapsed at any moment.
"We had to make marks to avoid getting lost," he said.
Deputy Mayor He said the river's water near the core area is up to standard as is the air quality around it.
It was the seventh press briefing and the deputy mayor's first appearance, since the blasts on Wednesday night.
Responding to why he missed the previous press briefings, He said that he was busy directing efforts to deal with the hazardous chemicals which were complicated in variety and quantity.
Bao Jingling, chief engineer of the Tianjin Environmental Protection Bureau, said that one of the 17 air quality monitoring stations detected hydrogen cyanide exceeding normal levels by 0.08 percent on Sunday, but not in a residential area.
Environmental authorities set up an extra 27 sites to monitor water quality in and around the blast area on Sunday. Three of these sites within the core area were found to contain excessive cyanide in surface water, with one containing 27.4 times more than the national standard.
Showers were forecast to hit Tianjin on Monday evening and plans have been made to prevent the spread of cyanide contamination, said Bao.
A minor explosion happened on Monday morning at the blast site but the resulting fire was quickly put out.
Casualty count
By Monday morning, 114 people were confirmed dead and another 70 were missing, Gong Jiansheng, deputy head of Tianjin's publicity department, said at a press briefing.
Gong said that the identities of 54 bodies have been confirmed and 39 were firefighters and five were policemen.
A total of 698 people remain in hospital, with 57 in critical condition.
The blasts have affected 17,000 homes and at least 6,000 residents have been displaced.
Some residents from communities near the blast site were escorted by soldiers on Monday to their homes to collect items while wearing masks.
Residents continued to protest on Monday outside the Mayfair Hotel, where press briefings were held the previous day, demanding that the government purchase their properties to compensate for their loss. Their apartments, located from 600 to 800 meters from the blast site, suffered window and furniture damage.
Company boss myth
Meanwhile, the media has unearthed more information about the company that owns the warehouse, Tianjin Dongjiang Port Ruihai International Logistics.
A man surnamed Dong, who is the son of a former head of the public security bureau of the Tianjin port, is reportedly one of the company's shareholders, according to news portal caixin.com.
"Legal representatives of the company, including Zhi Feng, are just small ants, and the background of the company is more complicated," a source familiar with the company was quoted by caixin.com as saying.
Zhi is listed as the company's general manager. Authorities had denied rumors that he has connections with a former Tianjin deputy mayor.
A key employee who reports to Zhi is being questioned, cnr.cn reported on Monday.
Shu Zheng, one of the company's two major shareholders, was quoted by news portal finance.qq.com on Saturday as saying that a friend used his identity to register as a shareholder of the company, and that he had nothing to do with the company's operations.
Nothing could be found about another listed shareholder, Li Liang.
Premier Li Keqiang said on Saturday that the government will thoroughly investigate the incident and punish those accountable and who failed to perform their duties.
"Only in this way can we act worthily for the residents and firefighters who died in the incident," Li said after arriving at the scene of the explosions to direct rescue work.