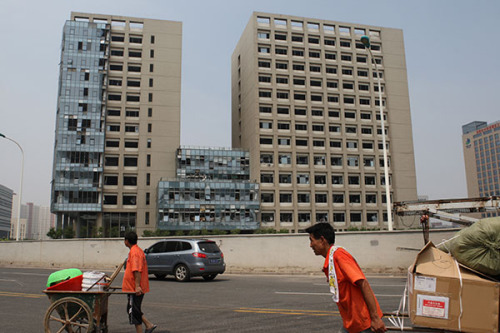 The windows of buildings 2 kilometers from the Tianjin blast site were severely damaged, raising questions about the use of safety glass. (Photo/China Daily)
Some property owners near the Tianjin blast site expect the government to buy apartments that were damaged by Wednesday's explosions, but government officials have not made such a commitment.[Special coverage]
"The whole building was shaking, and doors, windows and elevators were broken. I don't dare return and live there again," said Chang Zhi, who lived in Qihangjiayuan, a residential compound about 700 meters from the blast site.
"It is too dangerous. I hope the government will buy the property."
Chang paid about 760,000 yuan ($119,000) for the apartment, using his savings and his parents' savings, and he sold his apartment in his hometown of Ninghe county, Tianjin. He still owes more than 100,000 yuan on the new apartment.
"It was like a dream come true for me to live here by the sea. I like the environment here. Who could have known that so many dangerous chemicals were stored here and that a big explosion could happen?" said Chang, 26.
"My apartment was not the most severely damaged. I saw many of my neighbors running with blood over their bodies," said Chang, who usually comes back home once during the weekdays and happened to be there on Wednesday.
Chang was one of the more than 100 residents in the blast zone who gathered outside the Tianjin government's news conference near the site of the explosions on Sunday morning.
When asked at the news conference whether the government will buy the apartments affected by the accident, spokesman Gong Jiansheng said the government will try its best to meet citizens' needs.
On Saturday afternoon, Gong had said that 17,000 households, 1,700 enterprises and 675 shops had been affected by the explosions.
A man surnamed Liu, 36, who lived in Vanke Jinyulanwan, about 1.3 kilometers from the blast site, said he had planned on putting his apartment on the market the morning after the explosions.
"The explosion then came at night. Who will buy it now?" he said.
"The government's buying the apartment is not the only solution I can accept. It is also OK if it builds a similar compound. But I definitely don't want to go back to the same place," said Liu, who wasn't among those who went to Sunday's news conference site.
A woman surnamed Wang, 32, paid about 800,000 yuan for an apartment in Vanke Haigangcheng, about 700 meters from the explosion area, last year.
She was traveling in Qinghuangdao when the explosions happened. She came back the next morning to get some property, but police prevented her from doing so because of safety concerns.
Speaking a block from her home, a tearful Wang said: "We only started living here at the end of last year. I don't know how long it will take for us to be allowed to go back. But if even they say it is OK, to be honest, I don't dare live there again."