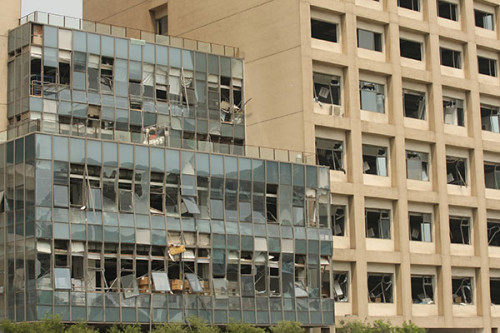 The windows of buildings 2 kilometers from the Tianjin blast site were severely damaged, raising questions about the use of safety glass. (Photo by Wang Zhuangfei/China Daily)
"Residents say the massive blasts at a chemical warehouse in Tianjin highlighted the lack of enforcement of a national law that requires the use of tempered safety glass in many residential and public buildings.[Special coverage]
Windows and glass doors of nearby businesses and residential complexes shattered during the explosions and in the ensuing shock waves, sending sharp shards of glass into the paths of fleeing families.
"The explosion affected our power supply and we had a blackout," said Zhang Ying, 33.
"My parents and I ran into the staircase and I suddenly felt pricking under my feet. Glass pieces stabbed into the flesh and caused some bleeding," she said. "My parents' feet were injured and they were bleeding."
Zhang said her apartment, on the 15th floor of a 33-story building in the Binhai district near the warehouse, should have been fitted with safety glass, as required by the State Regulation on Safe Architectural Glass.
The regulation, which took effect on Jan 1, 2004, requires the installation of safety glass in 11 instances during construction, including external windows of buildings that are seven stories and taller, windows covering more than 1.5 square meters, and windows in entrance doors and lobbies of public buildings.
Standard glass breaks into irregularly shaped, sharp shards and poses a greater risk of injury to those hit by flying glass or forced to walk on it. Tempered glass, on the other hand, shatters into small, evenly shaped pieces that pose less risk of injury.
Survivors of the blasts at the Ruihai International Logistics Co on Wednesday, which killed at least 112 people and left dozens missing, said it was clear that builders had failed to install the proper glass in many instances.
Windows broke into large pieces that flew in all directions, striking frightened residents who rushed to escape their apartments and find safe spots. Many residents were hit in the face and head, or on their legs, by the broken glass, and were rushed to hospitals.
Zhang Wenhan, a teacher at Nankai University TEDA College several blocks away, posted on social media many photos of broken glass in cafeterias and other public buildings on campus on Thursday.
Industry insiders, who spoke on condition of anonymity, said that most real estate companies don't use safety glass because it costs more.
Xiao Feng, a private real estate contractor in Hefei, Anhui province, said the cost of safety glass is twice that of standard glass, and it's not easy to see the difference between the two.
"Many promises of real estate companies are fraud, and buyers cannot distinguish between them and make a fuss before they move into the apartment," Xiao said.
Because many real estate developers would cut costs by using standard glass, it becomes the responsibility of government to ensure that regulations are followed, he said.