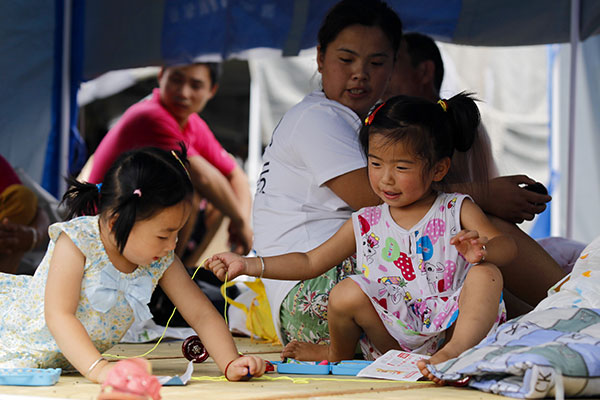 Children play at a temporary settlement at a primary school in Tianjin, Aug 14. (Photo by Zhu Xingxin/Asianewsphoto)
Some residents say they will not return to their homes now that they know toxic products were stored nearby
Liu Xuerui thought he could start a new life when he bought an apartment near Tianjin port in 2013. It was not until Wednesday night that he realized he was living close to a toxic chemical store. [Special coverage]
It cost him dearly. Waves of explosions equal to 21 metric tons of TNT shattered his windows and ripped off his apartment doors.
He was not injured, but the shock stays with him.
Some people with apartments in the area said they do not want to live there anymore.
"We thought there were just piles of containers and parking lots for imported cars. Nobody told us that there were chemicals, or I would never have chosen to live here," said the 27-year-old.
The proximity of the chemical store to residential buildings was just one of the many possible regulatory lapses exposed by the incident, according to industry experts.
Liu's residential community, Vanke Haigangcheng, was opened in December 2013. However, a public notice on the Binhai New Area's website on Sept 10 last year indicated that the company had changed the use of its warehouses for the temporary storage of dangerous chemicals during export and import procedures.
The renovated warehouses were put into service in April last year, almost six months after Liu's community opened for occupancy.
The questions raised by residents could indicate only the first of many regulatory lapses exposed by the tragedy, which so far has left at least 112 people dead.
One question was how the company, Ruihai International Logistics CoLtd, was able to stock such a large amount of dangerous chemicals in its warehouses, with some even kept outdoors.
Southern Metropolis Daily reported that the company had 700 tons of highly poisonous sodium cyanide in its warehouse outdoors when the explosion occurred.
"The first question is how the company was allowed to store such a large amount of toxic chemicals, whether the amount far exceeded the amount it was allowed to put in storage," said Dong Wengeng, a professor of safety engineering with Hebei University of Science and Technology.
Mixture of chemicals
The newspaper report said the company has a certificate to store about 10 tons of sodium cyanide.
The company website says it can offer warehousing services for six categories of dangerous chemicals, including strong oxidants such as potassium nitrate, inflammables including calcium carbide and sulfur, and sodium cyanide.
In the view of chemical engineering experts, the mixture of chemicals in the warehouses is highly unprofessional.