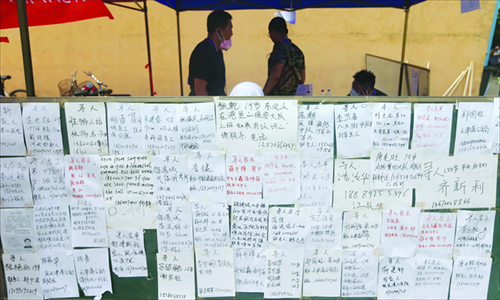 A message board is erected on Saturday in a temporary settlement camp in a local primary school in Tianjin where families of the missing have posted notices to search for their loved ones. (Photo: Cui Meng/GT)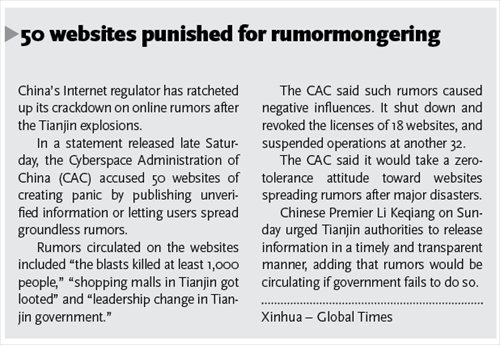 SPP to probe dereliction of duty in blasts
Authorities on Sunday confirmed that hundreds of tons of highly poisonous cyanide were being stored at the warehouse at the Tianjin blast side, but said rescuers are cleaning the site and most of the cyanide was unaffected. [Special coverage]
Shi Luze, chief of staff of the Beijing Military Area Command, said at a press conference on Sunday that rescuers were using hydrogen peroxide to neutralize the toxins and building cofferdams to enclose the damaged barrels, while removing those that are intact.
Two huge explosions took place in a warehouse for hazardous chemicals that belonged to Tianjin Dongjiang Port Ruihai International Logistics at about 11:30 pm Wednesday, following a fire.
The death toll rose to 112 on Sunday, with 95 people still missing, official data showed.
The missing people include 85 firefighters, of whom 13 are in active service and 72 worked for the Tianjin Port Group.
The cause of the blasts remains unknown and unanswered after six press conferences.
Chemical samples
Some military chemical specialists found traces of different types of chemicals, including those of magnesium and sulfur scattered in some buildings near the core area.
They collected three water samples and three earth samples from a large pool that formed at the center of the blast site. The samples have been handed over to environmental authorities for testing.
Bao Jingling, chief engineer of the city's bureau of environmental protection, said that among the 17 monitoring sites outside the "alert zone," two reported readings of hydrogen cyanide slightly above normal levels but it was not a health threat.
"I believe the air quality meets the standards," said Shi.
Meanwhile, the State Oceanic Administration (SOA) said no traces of cyanide or volatile phenol have been detected in waters off the Tianjin port.
Small explosion
Meanwhile, China's Supreme People's Procuratorate (SPP) on Sunday dispatched a special team to investigate whether any dereliction of duty was involved in the warehouse explosions.
Operations at the Tianjin port were suspended and the delivery of goods was blocked, affecting hundreds of companies in the area.
Although authorities reported that most of the fires had been put out as of Saturday, explosions still took place from time to time, hindering the progress of rescue and cleaning work.
A small explosion occurred at 4:49 pm on Sunday and a work team at the site was immediately evacuated.
As of Sunday, more than 3,000 soldiers have been dispatched to comb for dangerous chemicals. Over 4,000 medical workers are involved in rescue work.
'Lessons paid with blood'
Chinese Premier Li Keqiang on Sunday arrived at Tianjin to visit the firefighters, rescuers and those injured in the calamity.
He directed further rescue operations and treatment of the injured, as well as better handling of the aftermath and production safety.
In a rare development, Chinese President Xi Jinping issued a second statement on Saturday to address work safety problems which were revealed in the Tianjin blasts and called on people to remember the lessons paid with blood.
The blasts and the large number of casualties have sparked a campaign across China that prompted local governments to hastily conduct safety inspections.
Facilities that are required to undergo inspections include hydrogen generation stations, ammonia producing systems, fuel tanks, and warehouses storing volatile chemicals and explosives.
According to Wuhan Evening News, authorities had found "multiple safety hazards" after inspecting 1,598 companies related to the production and shipping of hazardous chemicals in Wuhan, a waterway transport hub along the Yangtze River in Central China's Hubei Province.