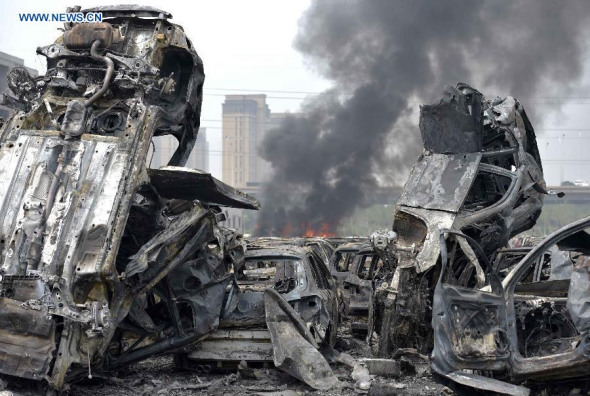 Damaged cars explose and trigger new blasts at the site of explosion in Tianjin, north China, Aug. 15, 2015. Death toll rose to 85 as of Friday night, including 21 firemen, from the massive warehouse explosions hitting north China's Tianjin City Wednesday night, the rescue headquarters said Saturday. (Photo: Xinhua/Yue Yuewei)
The warehouse in Tianjin, which was destroyed by an explosion on Wednesday night, was on fire again Saturday morning.[Special coverage]
Flames were seen at 11:40 a.m., and Xinhua reporters heard several blasts. Dense smoke could be seen at the site.
The warehouse in the Tianjin Binhai New Area is owned by Rui Hai Logistics, a company licensed to store dangerous chemicals.
Local authorities announced at 6 p.m. Friday that the fire was "basically out".