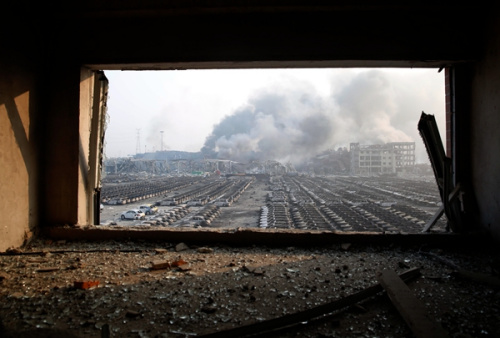 New cars are heavily damaged at a port next to the warehouse that exploded.(Photo by Dan Haihan/China Daily)
1.How did the warehouse pass safety and environmental impact assessment?
The warehouse was initially built by Tianjin Dongjiang Port Ruihai International Logistics in 2011 to store non-hazardous materials, but two years later, it was converted into a place to reserve hazardous chemical materials.[Special coverage]
A warehouse for such dangerous materials should be built at least 1 kilometer away from residential areas, according to rules and regulations. But the closest residential area to is only 600 meters away.
2.Were the firefighters informed of hazardous materials to before putting out fire?
One of the first batch firefighters that entered the warehouse blast site told Southern Weekly newspaper that nobody told them in advance whether they could use water to fight the raging flames.
Fires of various chemical materials should be extinguished through different methods because using water to put out a fire related to some chemical materials could easily set off explosions.
3.Will executives of the warehouse company be held responsible for the blasts?
The exact reason for the incident is still under investigation, but lawyers said warehouse company executives are likely to be accused of negligence in causing a serious accident, unless it is proved that the incident was a result of arson.
Relatives of those killed or injured in the blasts and people who sustained property damage could sue the company for compensation.
4.How seriously was the environment damaged by the blasts?
Tianjin authorities said air quality monitored near the blast site showed it was the same as in surrounding areas.
However, the fact that as many as 700 tons of toxic sodium cyanide is stored at the warehouse worries some about the potential damage to environment. The high temperature brought by the blasts might have vaporized some of the sodium cyanide and diffused it into the air, which could be more dangerous.