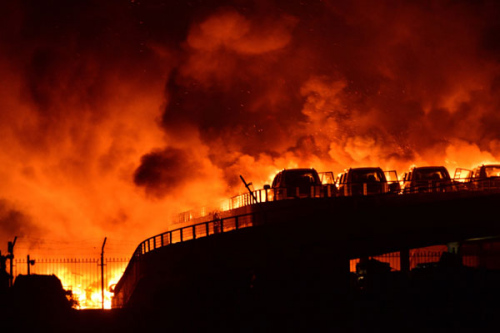 Smoke and fire are seen after an explosion in the Binhai New Area in North China's Tianjin municipality on Aug 13, 2015. (Photo/Xinhua)
Hazardous substances have been detected from two drainage outlets near the blast site in Binhai New Area, the Ministry of Environmental Protection said on Friday morning, refuting rumors that the dangerous participles have polluted the surrounding area.[Special coverage]
The harmful pollutants, including chemical Oxygen Demand (COD) and cyanide - a highly toxic chemical compound, were found three times and eight times higher than the usual levels, according to the ministry.
The Tianjin municipal environmental watchdog has set up 22 monitoring stations, of which five are checking water quality.
The drainage outlet to the Bohai Sea has been closed, and the bureau is conducting an investigation into water quality.
A team of 214 military specialists in handling nuclear and biochemical materials arrived in Tianjin Thursday afternoon following Wednesday's warehouse explosion, thought to have been caused by volatile chemicals on site.
In Beijing, about 150 km northwest of Tianjin, the municipal government said Friday that the explosions didn't affect air quality in the capital.
Winds from the northwest that the capital is currently experiencing are keeping the city clear of harmful pollutants, the Beijing Environmental Protection Bureau said.
The capital's monitoring stations in the southeastern region have not detected anything unusual in the air quality nor any sudden rise of air pollutants.
People and organizations can donate money through the following three channels:
1. Tianjin Charity Association: Address: No. 9, Shiying road, Nankai district, Tianjin Hotline: 022-234-165-98; 022-234-116-67
2. Postal remittance Receiver: Tianjin Charity Association Postal code: 300381 Address: No. 9, Shiying road, Nankai district, Tianjin (Please write on the envelope: Donation for Tianjin blasts and include your contact information)
3. Online donation: Bank: Shiying Road branch, Bank of China Receiver: Tianjin Charity Association Account: 272660066284 (Please write: Donation for Tianjin blasts and include your contact information)