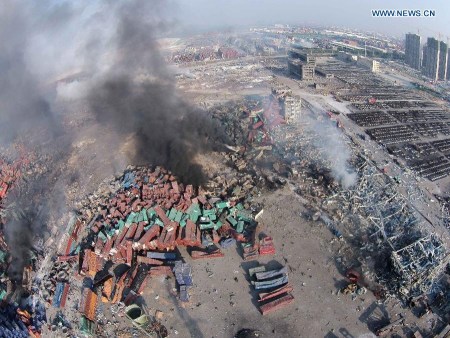 An aerial view shows the explosion site in Tianjin, north China, on Aug. 13, 2015. (Photo: Xinhua/Yue Yuewei)
The dangerous chemicals stored in the warehouses that exploded on Wednesday night in Tianjin Port can not be determined at the moment, authorities said at a press conference on Friday.[Special coverage]
Gao Huaiyou, deputy director of Tianjin's work safety watchdog, cited major discrepancies between the accounts of company management and customs, and damage to the company's office as reasons they are unable to identify the chemicals.
Cargo is stored in a warehouse for no more than 40 days before being transferred elsewhere, Gao said, adding that the blast sites have been redesigned to contain dangerous chemicals.
The enormous blasts have killed 50 people, including 17 firefighters. A total of 701 were injured, of whom 70 remain in critical condition.