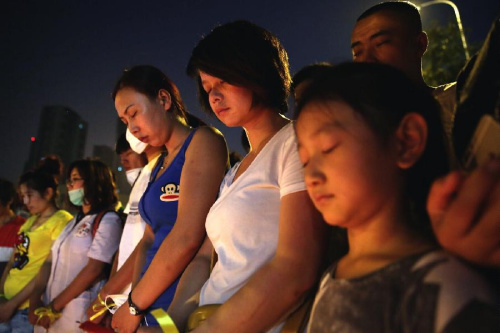 Citizens mourn for the victims of the warehouse explosions at a temporary shelter in Tianjin, north China, Aug. 13, 2015. The death toll from warehouse explosions in north China's Tianjin city rose to 50 Thursday evening. (Xinhua/Cai Yang)
Fire fighters, soldiers, doctors and civilians are racing against the clock to save the injured and contain fires 24 hours after two massive explosions at a warehouse in Tianjin Municipality, north China.[Special coverage]
As of Thursday evening, the death toll had risen to 50, 17 of whom were firemen, and 701 had been hospitalized, rescue headquarters said.
Of the injured, 71 are critically wounded.
The Tianjin Port Group Co. said dozens of its employees are still unaccounted for and a search operation is under way.
Two huge blasts ripped through a hazardous chemical warehouse in Binhai New Area at around 11:30 p.m. Wednesday, causing deaths, injuries and building damage for kilometers. The cause of the fire, believed to have triggered the explosions, is being investigated.
President Xi Jinping and Premier Li Keqiang have urged all-out efforts to save the injured and minimize casualties in the blast.
In an instruction, President Xi ordered that search and rescue missions be carried out to the highest standards to guarantee the safety of the rescuers.
The State Council, China's cabinet, dispatched a work group led by Minister of Public Security Guo Shengkun to direct the rescue and emergency mission.
Premier Li promised a thorough investigation of the accident, with open and transparent information disclosure to the public.
More than 1,000 fire fighters and 151 fire engines are still trying to extinguish small flames, said Zhou Tian, head of Tianjin's fire department, at a press conference on Thursday afternoon.
Fire fighters have rescued more than 60 and evacuated another 400 from the site, Zhou said.