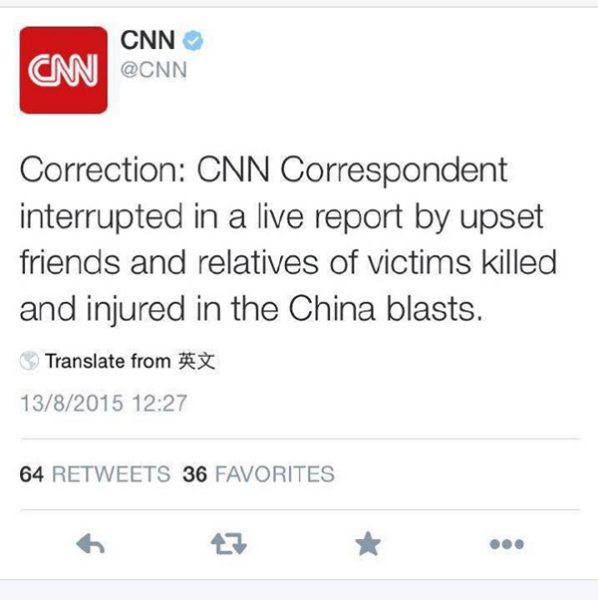 Quick to blame Chinese officials for forcing its correspondent off air while he reported on the deadly Tianjin blasts, CNN has now retracted its rash comments, but no outright apology has been forthcoming. [Special coverage]
The U.S.-based cable news network on Thursday tweeted that its correspondent Will Ripley was interrupted during a live report "by upset friends and relatives of victims killed and injured in the China blasts."
An earlier CNN tweet claiming Ripley was "shut down by officials" while reporting from outside a hospital where many of the survivors of the warehouse blasts are being treated, has been deleted.
The incorrect report by one of the world's most powerful media outlets unleashed a torrent of criticism of the Chinese government for its treatment of the foreign press in reporting the tragic events. Reporters from many other international media houses were also reporting in Tianjin.
Local Chinese authorities have confirmed that no government officials had been involved in Thursday morning's scuffle.
"We express regrets over this," Gong Jiansheng, a local publicity official, told reporters.
It was not clear why friends and relatives of the victims interrupted Ripley, but in China, the death of a relative is regarded as a deeply personal, family matter and media exposure is seen as intrusive, and hugely disrespectful to the dead.
This is not the first untrue CNN report from China. In 2008, the network came under fire for doctoring photographs while reporting on the March 14 riot in Lhasa, capital of Tibet Autonomous Region.
CNN also used quotation marks around the word "terrorists" in its reportage of a horrifying attack by Islamic extremists on members of the public in a southwest Chinese city last year.
At least 44 people have been confirmed dead, with 21 others still missing, after massive warehouse explosions ripped through north China's port city of Tianjin late Wednesday night.
A total of 521 people have been hospitalized, including 52 critically injured.
The Tianjin fire brigade said it has sent 1,000 firefighters and 143 fire engines to the warehouse, which contained dangerous goods.