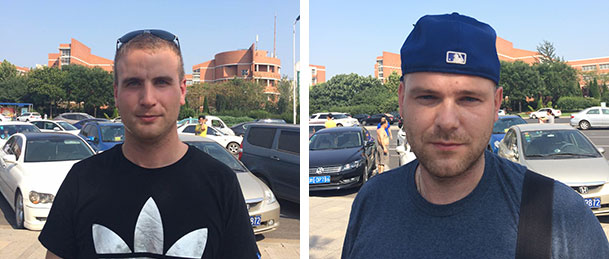 Left: Stefan Andersen; Right: Adam Kaminski (Photo: chinadaily.com.cn/Tang Yue)
Danish citizen Stefan Andersen, who is now working for FH-International, an international engineering company located in Tianjin, tried to donate blood at Tianjin's TEDA Hospital on Thursday afternoon, but found it was a not a blood donation center. [Special coverage]
He talks to China Daily Reporter Tang Yue about his experience during and after the explosion:
I was woken up by the explosion last night. My apartment is just one kilometer away from the explosion. I woke up and went to the window and there was another explosion later. I was really shocked. I knew something was not right here. Then I just quickly put on some clothes and went downstairs to the street.
Then I calmed down and thought it was over, but I was not sure whether it was safe or not, so I went upstairs quickly and got my suitcase and stuff I need and went to my friend Adam Kaminski's place. We stayed up until 5 o'clock talking about this. I wasn't tired and it took some time to calm down again.
I experienced an earthquake in Alaska before, but that couldn't compare to this (explosion in Tianjin).
That earthquake was quite strong. I remember it was 5 am, but when I woke up it was over. But here (in Tianjin Binhai New Area), the building was shaking, jumping up and down. Nothing compares to this. Nothing.
I was definitely scared. We had no idea what was going on. Was it an attack or something? We had no idea.
I'm good now and it's also good to see people here are calm and no one is panicking at all. We want to donate blood here but it seems they don't need it at the moment.
Adam Kaminski, 29, from Germany, works for BRABUS, a vehicle company and lives in the No 13 Avenue of Tianjin Economic-Technological Development Area (TEDA).
He has lived in Beijing and Tianjin for more than three years and was trying to donate blood at Tianjin's TEDA Hospital together with his friend Andersen on Thursday afternoon. He shared his experience of the explosion with China Daily:
I lived more than 10 kilometers away from the explosion site. But I woke up because of the "earthquake", which I thought it was, though I never experienced an earthquake before.
I looked outside of the window and saw some of the explosions. I called my friend Stefan and asked him what happened. He didn't know either.
When I saw the pictures from the scene, I think they were like in a movie, a bomb testing. I've never experienced something similar before. I am trying to help but I don't know in what way.
I still think it's safe to work here (Binhai New Area of Tianjin) because this could happen anywhere. I think this place is a good place. I like it much more than Beijing and downtown Tianjin and I see it as my second hometown. I sometimes go to downtown for drinks, but I enjoy living here.
TIANJIN - A huge blast woke Hu Xiaoliang on Wednesday night.
When Hu came to his senses, the 32-year-old truck driver found he had been catapulted away from beneath his truck, where he and his coworkers were resting.
The blast, which has left 17 confirmed dead and more than 400 injured, came from nearby warehouses at the Tianjin port.
Smog is still billowing from the blast site.
Soon after the blast occurred, Hu saw firefighters rush to the site. Another blast followed, and more firefighters rushed in.
In a nearby apartment complex, the balconies of many apartment buildings were shattered. The path within the complex was scattered with glass shards.
Du Wenjun, a resident in North China's Tianjin Municipality, never imaged that he would see a "mushroom cloud" outside the window of his own home.
When the blast occurred, Du felt strong jolts and saw a huge column of smoke not far away. A video clip of a witness showed that the heavy smoke dispersed high in the sky, shortly after fires raged, accompanied by loud bangs.
Zhao Lirong, a 35-year-old businesswoman from Inner Mongolia, was sleeping when the blast blew off the windows and doors of her apartment, hitting her head, her son's neck and her husband's feet.
A dozen family members living in the apartment were wounded. All of them ran out of the building and walked to Teda hospital nearby.
In the few hours after midnight, around 40 injured people were shuffled into the hospital's hall and emergency room. Dozens were kept inside while those that sustained heavy injuries were transferred to other hospitals.
Volunteers helped maintain order outside of Teda Hospital and asked people to donate blood. Others were helping those with minor injuries to bandage wounds.
Blood stains were splattered on the floors of hospitals that received injured patients from the blast. Some of the victims were still recovering from the shock, and others were crying because they had lost contact with their families.
"Everything in my home was ruined in the blast. It is so horrible. The pants and shoes you see me wearing now were picked up on my way to the hospital," said a man with the surname Chi.
People rushed into the streets in their pajamas, and some worried that an earthquake could occur.
There was heavy traffic congestion for hundreds of meters at 1 a.m. on the street near the warehouse, according to Lu Qing, a witness who drove by the scene.
The Tianjin fire station received the blast report at 10:50 pm on Wednesday. Nine fire brigades and three specialty teams were dispatched to the spot, followed by another nine brigades and 35 fire trucks an hour later.
Two firefighters have been reported missing and another four were injured in the battle against the fire.
"It's all black and smog, I can't see anything inside. Some of my colleagues had even worse injuries," an injured firefighter in his 20s told Xinhua reporters.