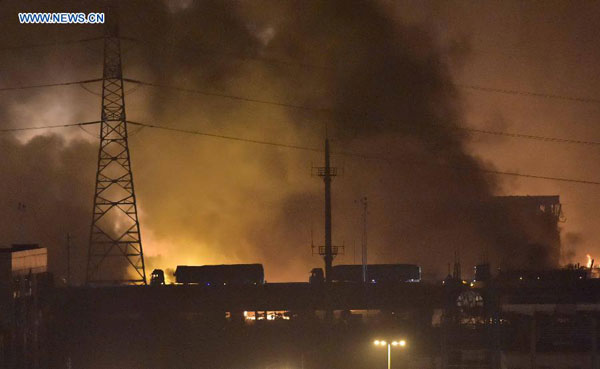 Trucks pass a bridge near the explosion site in the Binhai New Area in north China's Tianjin Municipality, Aug. 13, 2015.
The explosions in Tianjin have not caused serious impact on the overall operation of the local communication network, according to the news on the official website of the Ministry of Industry and Information Technology (MIIT). A total of 36 surrounding communications base stations were out of service because of the power cut caused by the accident, accounting for 2.1 percent of the 1,688 base stations in Binhai New Area. [Special coverage]
After the accident, MIIT organized the Tianjin Communications Administration and China Telecom, China Mobile, China Unicom to carry out emergency communication support immediately.
Currently, the local communications network runs smoothly and the rescue work is underway.