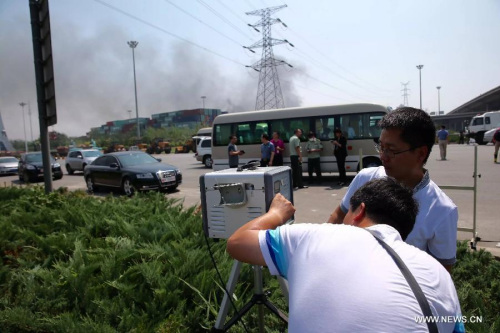 Staff members of Tianjin Environment Monitoring Center monitors air quality near the explosion site in Binhai New Area of Tianjin, north China, Aug. 13, 2015. (Photo: Xinhua/Jin Liwang)
Air quality remains normal in the region near the warehouse which was destroyed by blasts Wednesday night, the Tianjin environmental bureau said. [Special coverage]
The city immediately began to monitor the air and water quality after the blast, setting 17 monitoring stations for air and five for water, according to the bureau.
The discharge port to the sea has been closed and the water is being tested.
At 4 p.m., armed police detected high densities of toxic gas, including sulfur dioxide, carbon monoxide and nitrogen oxides, within 500 meters of the fire, according to the rescue headquarters.
But they were not detected 2 km from the fire, the headquarters said.
At 4 a.m. Thursday, epoxyethane, a harmful gas which can lead to cancer, in the most polluted area remained at a normal range below 2 milligram per cubic meter. It is considered hazardous at 5 milligram per cubic meter.
At 5:30 am, the concentration of methylbenzene and volatile organic compounds, both harmful gases, slightly exceeded the safety standard.
As of 11 a.m., all harmful gas indicators fell back to normal range.
Two blasts, which occurred around 11:30 p.m., ripped through the Binhai New Area on Wednesday with enough power to register as a seismic activity by the China Seismological Station.
As of Wednesday afternoon, the blasts left 44 people dead, including 12 firefighters, at least 21 others missing and 521 people hospitalized.
Specialized anti-chemical warfare troops were sent to the site.