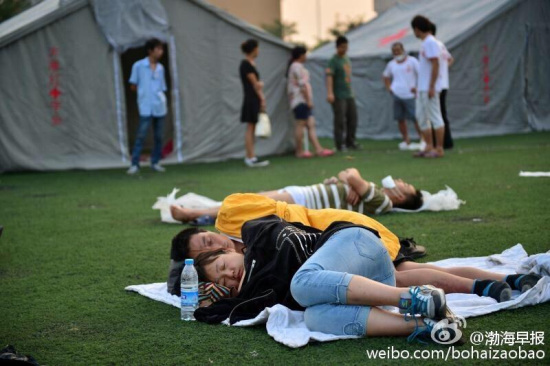 People injured by powerful explosions at a warehouse receive treatment at a temporary shelter in an elementary school in North China's Tianjin municipality, Aug 13, 2015. The blasts have killed 17 people and injured more than 400, according to rescuers.(Photo/Weibo of Bohai Morning News)
On arrival at the blast site in Tianjin to direct rescue operations, Public Security Minister Guo Shengkun declared the first priority was to save lives.[Special coverage]
A blast occurred at a warehouse in the north China port city on Wednesday night killing at least 44 people. More than 500 others have been injured.
Guo, who is in direct communication with President Xi Jinping and Premier Li Keqiang, arrived in Tianjin at about 5:00 a.m. on Thursday and immediately went to the scene of the explosion. On arrival he declared that "every resource available" should be commandeered and "every possible measure" taken to prevent further loss of life or injury.
On tour of hospitals where the injured are being treated, Guo asked medical staff to spare no efforts to save lives and ensure that victims receive the best possible care.
At a meeting of local authorities around 6:00 a.m. to review the current situation and plan for the next few ours, Guo stressed his concern for the safety of rescuers and the "absolute necessity" of preventing secondary accidents.
The best possible medical staff and resources should be mobilized, while the victims' families should be kept fully informed and provided with whatever care they needed, he said.
"Deep lessons must be learned," said Guo. An immediate and widespread inspection of the storage and transportation of dangerous goods should be conducted immediately to prevent any recurrence of such a tragedy.