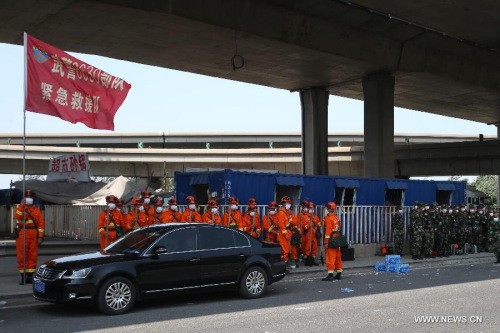 Armed policemen wait for an order to enter the explosion site in Binhai New Area of Tianjin, north China, Aug. 13, 2015. (Photo: Xinhua/Jin Liwang)
China's Public Security Minister Guo Shengkun arrived at the blast site in Tianjin to direct rescue operations and visit the wounded, making the first priority to ensure the security of the people's lives and property.
A blast occurred at a warehouse in the north China port city on Wednesday night, killing 44 people and injuring more than 520 as of Thursday morning.[Special coverage]
Guo arrived in Tianjin at about 5:00 a.m. on Thursday and immediately went to the blast spot. He said the blast has caused serious casualties and great concern from Chinese leaders and people.
Authorities must "convene every resource available and take every measure that can be taken" for the rescue and emergency handling, Guo said.
Guo paid a visit to the wounded in hospitals and asked medical staff to spare no efforts in relieving their pain and to cure them as soon as possible.