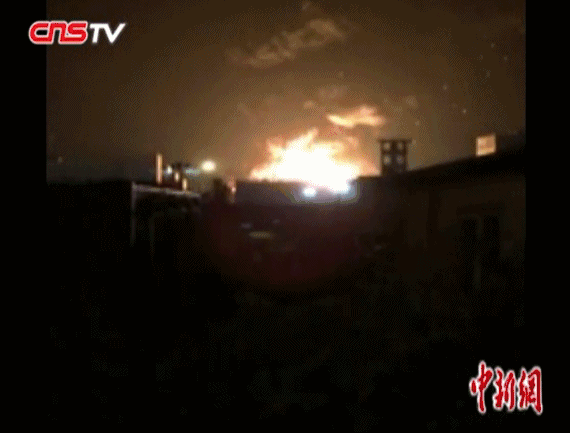 A video clip shows the scene of the explosion in Tianjin. (Source: Chinanews.com)
The death toll rose to 44, including 12 firefighters, from massive warehouse blasts in the northern Chinese port of Tianjin as firefighters continue to battle flames still blazing at the blast site.[Special coverage]
A total of 520 people have been hospitalized, including 66 critically injured, according to the rescue headquarters.
The Tianjin fire brigade said it has sent 1,000 firefighters and 143 fire engines to the warehouse, which contained dangerous goods. The volatility of the goods has made the fire unpredictable and dangerous to approach.
Firefighters told Xinhua that the road leading to the blaze remains blocked, and they have only been able to spray dry powder and foam from a distance. Armed police are also standing by at the site.
A firefighter told Xinhua that a dozen fire engines have driven into the site, and more firemen will enter to put out the flames and make way for search and rescue efforts.
Xinhua reporters saw at least 200 armed police officers around the warehouse.
Lu Yun, head of Teda Hospital, which admitted about 150 injured people, told Xinhua that most of the injuries were from broken glass or stones. Some of the injuries are serious.
A list of injured people admitted to the hospital obtained by Xinhua reporters shows 38 patients ranging in age from 19 to 63 were being treated in the hospital's intensive care unit and osteology, neurology, surgery and other departments as of 9:00 a.m. Thursday.
Schools and other sites near the warehouses opened on Thursday to help the injured. An aquarium further away also put up a statement on Thursday saying its service center, washrooms and parking lot will be open to the public around the clock through the end of this week for aid distribution and blood donations.
Rail links connecting downtown Tianjin to the Binhai New Area were suspended after shockwaves from the blast damaged the Donghai Road Terminal.
The office building of Chinese supercomputer Tianhe-1, one of the world's fastest supercomputers, suffered damage. Sources at Tianhe-1 told Xinhua the computer is not damaged, but they have shut down some of its operations as a precaution.
Tianhe-1 provides data services to more than 300 organizations across China, including several universities and banks.
Volunteers have arrived at hospitals for blood donation, and taxi drivers and private car owners offered help to transport the wounded to hospitals. Several hotels have provided free accommodation to residents displaced by the blast.
Read more:
Firefighters struggle to contain Tianjin fire
Hundreds of firefighters are struggling to contain flames after two explosions at a warehouse in Tianjin on Wednesday night, their efforts hampered by complex conditions at the site.