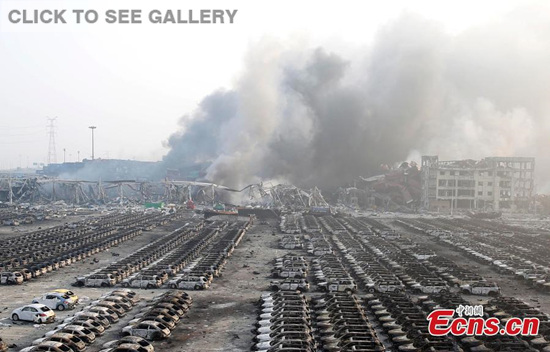 News cars are burnt down to their metal frames at a parking lot near the blast site in Tianjin municipality on August 13, 2015. Two massive explosions caused by flammable goods rocked an industrial area in the northeast Chinese port city late on Wednesday, killing at least 17 people and injuring more than 400. (Photo: China News Service/ Han Haidan)
LATEST: DEATH TOLL RISES TO 44 FROM MASSIVE TIANJIN BLASTS
At least 17 people were killed and more than 400 others were injured after two massive blasts rocked north China's port city of Tianjin late Wednesday night.[Special coverage]
Thirty-two people were critically injured and 283 others are under observation in the hospital, according to the Tianjin municipal government.
President Xi Jinping has urged all-out efforts to save the injured and minimize casualties.
The first explosion occurred around 11:30 p.m. Wednesday at a warehouse in the Binhai New Area. Only seconds later, a second blast wreaked more havoc, as fireballs shot into the sky, sent doors and windows flying in neighboring areas, and set cars and houses on fire.
"I was sleeping under my truck when the first blast occurred. It literally threw me out of the trunk. The second blast was bigger, flames came and now my truck is all ashes," said Hu Xiaoliang, a truck driver.
His truck, loaded with charcoal, was parked just outside the door of Tianjin Dongjiang Port Rui Hai International Logistics Co. Ltd., the company that owns the warehouses.
A Xinhua reporter saw thick smoke rising from the site of the blast and minor explosions could be heard. A pungent smell permeated the surrounding area. In the Binhai New Area, many companies told employees not to come to work. People who live in the nearby community could be seen wearing masks.
At least three firefighters died and more are feared missing, according to the Tianjin fire brigade. Rescuers are searching for people trapped inside the blast site.
Lu Yun, head of Taida Hospital, which admitted about 150 injured people, told Xinhua that most of the injuries were from broken glass or stones. Some of the injuries are serious.
Rail links connecting downtown Tianjin to the Binhai New Area were suspended after shockwaves from the blast damaged the Donghai Road Terminal.
The office building of Chinese supercomputer Tianhe-1, one of the world's fastest supercomputers, suffered damage. Sources at Tianhe-1 told Xinhua the computer is not damaged, but they have shut down some of its operations as a precaution.
Tianhe-1 provides data services to more than 300 organizations across China, including several universities and banks.
Volunteers have arrived at hospitals for blood donation, and taxi drivers and private car owners offered help to transport the wounded to hospitals. Several hotels have provided free accommodation to residents displaced by the blast.
Tianjin, about half an hour from Beijing by train, is home to 14.72 million people.