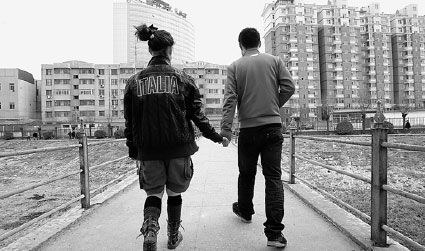 Pan Ning and his girlfriend, both from Northeast China, make a living in Beijing by performing errenzhuan, a type of folk dance native to Northeast China. (Zhang Tao/for China Daily)
Fu Cheng, a researcher at the Jilin Academy of Social Sciences, said a wide range of factors influence couples thinking of having a second child. "More young people nowadays prefer small families. Factors such as finances, housing, education and age are also involved in making these plans. Most young couples want to give their children favorable conditions to grow up in, which involves high financial outlay. Many abandon the idea once they understand the difficulties," he said.
Liu Chang, 31, has just returned to work as a journalist at a newspaper in Harbin after maternity leave. She definitely doesn't want another child. "Absolutely not. My husband and I made this decision after much consideration, including finances, energy, emotion and self-development," she said. "In the past half-year, we found it much more difficult to raise a kid than we ever expected."
Liu's husband is a civil servant, and their combined monthly income is about 7,000 yuan, a reasonable sum in the city, but the birth of their daughter brought severe financial pressure. "We spent about 30,000 yuan alone on obstetric examinations during pregnancy and the natural birth of my daughter," Liu said. "That's about average in this city, but I know some families who paid several times more than that."
Furthermore, as an only child herself, the 30-year-old isn't certain she would be able to deal with the relationship between two children. "Recently, I have read several reports about how an older child refused to accept the truth that they would soon have a younger brother or sister," Liu said. "It really scared me when I learned that some kids had threatened to end their own lives if their parents decided to have a second child."
Age concerns
All of these factors have led to a seemingly intractable problem for the three provinces - a rapidly aging population that is not being replaced.
According to data compiled by Luo Dandan, a researcher at the Heilongjiang Academy of Social Sciences, by the end of 2012 the province was home to nearly 5.7 million people age 60 and older, accounting for 14.8 percent of the population and three times the number in 1995.
The Heilongjiang Population and Family Commission estimates that the proportion will hit 19 percent by 2020, before rising to more than 33 percent by 2045. By contrast, economically advanced provinces are aging more slowly: By the end of 2012, only 7.06 percent of the population of Guangdong province - ranked No 1 in terms of GDP last year - was aged 65 and older, equivalent to the situation in Heilongjiang 10 years ago.
In the face of the decline, the three provincial governments have been implementing a range of measures to keep the "floating population", especially talented young people, in the region.
In a bid to retain more talent, the Heilongjiang government released a cash subsidy policy in March for people with master's degrees and doctorates who opt to study at public institutions that urgently need talented newcomers.
In May, the province published a policy to encourage university graduates to start their own businesses, and provides 100 million yuan in financial support annually. All three provinces have now implemented policies to create jobs or help business startups.
In Changchun, the government has adopted a series of measures that guarantee migrant workers the same employment, medical, education and housing rights as native residents, and community staff have been registering members of the floating population to ensure they will qualify for assistance.
"We discovered a family from Anhui (province) that was in serious financial difficulty. It was a middle-aged couple who could only do a few odd jobs and had no stable income, but they had to spend a lot of money on study materials and nutritional supplements for their son in secondary school," said Chen Yawei, an officer in Xichaoyang, a residential district in Changchun.
When they learned about the family's situation, the community staff tried to help them find better-paid jobs and provided assistance for them to apply for subsidies, which helped them get through their difficulties.
"In this way, we hope the members of these floating populations will identify as permanent residents and see Changchun as their new home, instead of just being visitors who are passing through," said Chen.