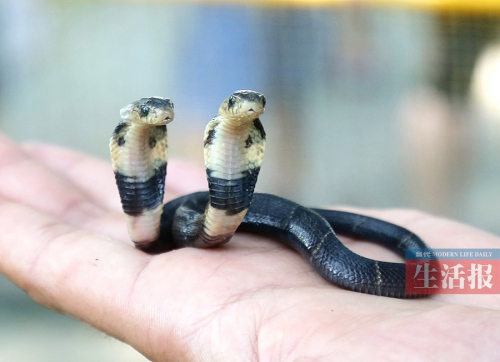 A two-headed cobra. (Photo/Modern Life Daily)
A zoo in the southwestern city of Nanning recently adopted a two-headed cobra. The rare creature has already survived 15 days, but the zoo said it may need to call in specialists to sustain its life.
The 20-centimeter-long snake has two brains but only one digestive system. It was born on a snake farm and was soon handed over to the zoo for better care.
It now weighs only 50 grams, about 15 grams lighter than a normal cobra at the same stage of life.
Zookeeper Li Keqi has been caring for snakes since 2007. He said he'd never seen a two-headed snake until now. He said temperature and humidity changes during incubation may have caused the mutation.
"One of its heads wants to move to the right, while the other wants to move left. This kind of incongruity is constantly affecting the animal," Li said.
The snake shed its skin for the first time a week ago, but has since refused to eat. Zookeepers are using artificial feeding to keep the animal alive, but this method is not sustainable.
Therefore, the zoo is calling for snake experts from around the world to offer their advice.