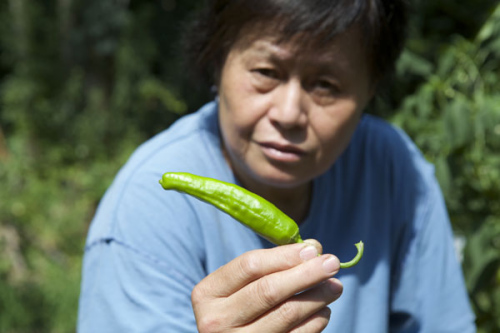 Zhang Zaixian, 63, posing on July 29 with the red cowpeas she grew in a garden near Yale University in New Haven, Connecticut. (China Daily/Hezi Jiang)
After her husband took her grandson to school, Zhang Zaixian, 63, pushed a converted baby stroller to a garden steps away from her apartment on the northern edge of Yale University. Inside the stroller, there were three 1-gallon milk bottles filled with fresh tap water, along with a plastic bucket to bring back garden harvests.
Zhang and her husband have stayed in New Haven, Connecticut, the past six months to look after their 3-year-old grandson, taking their turns with the in-laws as their daughter does postdoctoral research at Yale.
There are 81 families at the Yale-owned apartment complex where Zhang resides, and according to the residents, members of more than 70 households are from China. Almost every family has one or two children.
About a quarter of all international students at Yale are from China, the top source by far for international students in the United States. Yale, which in 1854 graduated the first Chinese person from a US college, had 680 international scholars, 516 graduate students and 58 undergraduates from China last year, according to The Associated Press.
"Most families have the grandparents here taking care of the young," Zhang said. "Very few don't."
During the day, when the parents are working, and the children are at school, the neighborhood becomes a playground for seniors.
Some grow vegetables and herbs, some exercise and socialize, and some do both.
Because of a small-vessel disease, Zhang had not been physically active the past few years in China. But now, she is in charge of about 100 square feet of land in one of the two gardens, each about the size of an Olympic pool. The gardens are tended by the Chinese families living at the apartment complex, and they work for hours cultivating, planting, watering and harvesting vegetables.
"Because of my health issues, my husband didn't let me farm in the beginning. He told me, 'I will take out whatever you plant in!' " said Zhang. Regardless, she planted some seeds given to her by the neighbors, and when the chives grew tall, Zhang made chive dumplings.
"My husband had the dumplings and said, 'Finally a good meal!' And since then he began to take photos of me farming," Zhang laughed. "The chives in the supermarket lack flavor, and the leeks are different from Chinese ones. My daughter loved the cucumbers I grew so much.
"We farm for the taste of home."
"Also, my health is improving. I hardly get a headache these days," she said. Coming from Beijing, Zhang had never farmed before. Her neighbors who had experience kindly taught her step by step.
"Now she's doing much better," said Guo Zhirong, 71, from Sichuan province. Guo and his wife Wang Juyuan, 68, have been in New Haven almost four years, looking after their 3 1/2-year-old grandson.
"We are farmers in China," Guo said. "If there is no farmland here, life would be so boring. The land is our own, but the vegetables we share." Though not every family plants, almost all of them get to taste the harvests.
"A lot of people share," Zhang said. "Yesterday I wanted to give my neighbor Mr. Ma some chives, but he already got some from another neighbor."
When Zhang arrived at the garden one recent morning, she was heartbroken to learn that raccoons had eaten her Chinese lettuce. Sometimes, squirrels eat the tomatoes. But she is happy that her chives are growing fast and decided to make some chive scrambled eggs for lunch.
Across the street from the garden one block south, under three giant European beech trees, there is a party from 9 am to noon, Monday to Friday.
"When there are new people to the community, we meet under the trees to chat," said Qi Xiaoyu, 63, from Beijing. Qi was visiting her son for a short period, and she had already made many friends. "Sometimes we sing songs and exercise together. Starting next week, we are beginning to do tai chi." On that day, they took pictures of each other under the shade.
Although Qi doesn't farm, she often shares in the cooking. On Thursdays, she, Zhang and other friends take the bus to the Hong Kong market.
"The market gets fresh fish on every Thursday!" said Zhang. "We gather by the road at 10 am and leave together."
As she headed back to her apartment around noon, Zhang was called by her neighbor Tang Yongxiu, 70. "Do you want some dumplings?" Tang asked.
"Do you have enough?" Zhang asked.
"Plenty!" Tang replied.
For lunch, Zhang took away a plate of dumplings, and soon returned with a plate of chive scrambled eggs.
"We are too old to integrate into the American society. The best we can do is to say 'Hello! Morning!' in English," Zhang said. "So we just live our own simple life."