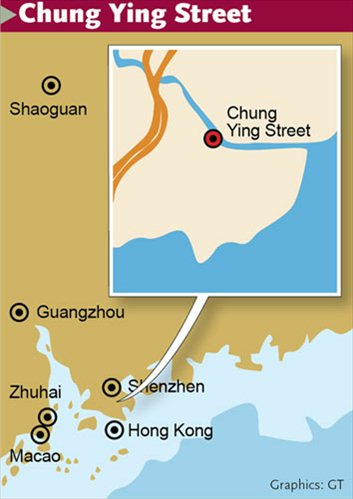 Chung Ying Street. (Graphics/GT)
Shopping on the edge
Parallel goods trading, the practice of buying tax-free goods in Hong Kong and smuggling them to the Chinese mainland for resale, has been an ongoing problem for authorities in Hong Kong and across the border in Shenzhen, South China's Guangdong Province. To curb the trade, which deprives the government of tax revenue, authorities imposed visa restrictions in April that prohibited Shenzhen residents from traveling to Hong Kong more than once a week. Although the restrictions have reduced the volume of the parallel goods trade, the practice persists. Local authorities and academics both said it is impossible to entirely stop the trade. On a recent visit to Shenzhen, Global Times reporter looked into why parallel trading remains alive and well along the border.
On a recent Tuesday, a Shenzhen resident surnamed Li was packing for a two-day shopping trip to Hong Kong.
The 30-year-old woman planned to bring back 10,000 yuan ($1,610) worth of goods, all of which would be resold on the Chinese mainland.
Li said she has been working as a full-time parallel goods trader since September 2014. The practice has grown in popularity in recent years as more and more people realized there was easy money to be made by buying tax-free goods in Hong Kong and then reselling them on the mainland at below-market prices.
For a long time, Hong Kong has been a popular shopping destination for mainland tourists, who not only like the lower prices, but also perceive the goods sold in Hong Kong to be of higher quality.
Parallel goods traders effectively provided mainland consumers with the short cut. Customers can get the same quality of goods at close to the same price - without the bother of actually traveling to Hong Kong.
Every time Li goes to Hong Kong, she buys all kinds of goods - from luxury handbags to pharmaceuticals.
"There is a huge price difference between products from Hong Kong and the mainland. For example, there is a certain anti-cancer drug that costs about HK$3,000 ($386.96) in Hong Kong and 6,000 yuan on the mainland," she said.
The central government has decided to curtail the trade. In April, it imposed visa restrictions that limited Shenzhen residents from traveling to Hong Kong more than once a week.
The policy change had an immediate effect on parallel goods traders. "I've been affected by the new 'one-visit-a-week' policy, as we used to go to Hong Kong almost every day," Li told the Global Times on July 21.
She wasn't the only trader affected by the change. Another local resident who usually passed through Shenzhen Bay Port checkpoint and preferred not to be identified said that his weekly earnings have decreased between 1,000 yuan and 2,000 yuan.
After the policy took effect, arrivals from the mainland began to fall. Hong Kong received about 2 million visitors from the mainland in June, down 11 percent from the same period in 2014, media reported in July. It was the third straight month of declines.
The parallel goods trade has reportedly affected the daily lives of residents, so the Hong Kong Special Administration Region government is very concerned about the nuisance caused by those activities, according to an announcement published on its website in March.
According to the Hong Kong government, authorities there uncovered 4,986 cases of the illegal export of baby formula from March 2014 to February 2015. The cases involved 1,748 Hong Kong residents and 3,235 residents from the mainland.
Although the media has paid a lot of attention to parallel goods traders from the mainland, Hong Kong residents play a significant role in the trade. "More than 30 percent of parallel goods traders are Hong Kong residents," Song Haiyan, professor of tourism management at Hong Kong Polytechnic University, told the Global Times Wednesday.
Border street
On most weekends, a 20-year-old Shenzhen resident with a full-time job ventures to Chung Ying Street to work part-time as a parallel goods trader.
The street, which sits on the border of Hong Kong and Shenzhen, is a hub of the trade.
"I've noticed parallel-goods traders hiring part-time workers online," said the resident, who asked to remain anonymous because parallel trading can be illegal. "I was told that I could earn about 70 yuan per trip carrying goods from Hong Kong to Shenzhen."
The southern side of Chung Ying Street is in Hong Kong and the northern side is in Shenzhen. For historical reasons, many residents in this area are legal residents of both Hong Kong and Shenzhen, which allows them to travel easily between both cities, said Wang Zongmin, an official at Chung Ying Street Administration Bureau.
"Tourists can also easily enter into this area with permits from local authorities in Yantian district," Wang told the Global Times on July 23. He noted that many of them come to Chung Ying Street to buy tax-free products from Hong Kong.
"Based on data complied in 2014, local authorities estimate about 70 percent of the 7,000 daily visitors to the street are parallel goods traders," said Xu Gang, director of Chung Ying Street Administration Bureau.
Parallel-good trading activities have seriously disrupted social order while pushing up prices of daily necessities, Xu noted.
"Professional parallel traders usually recruit people to carry goods worth less than 3,000 yuan, which is the legal threshold for tax evasion," Xu told the Global Times on July 23.
The local government has stepped up the crackdown on parallel trading since last year, Wang said. Besides more frequent inspections, they are making sure that shops opened on the mainland side of the border are legitimate places for tourists to buy goods from Hong Kong.
"Some shop owners and workers used to use this free-access zone to do parallel trading, which jeopardized its reputation," Wang said.
Hard to tackle
Shenzhen customs have been combating illegal parallel trading at customs checkpoints such as Luohu Port and Sha Tau Kok, the Beijing-based Legal Daily reported in February. The crackdown has uncovered more than 60 illegal supply chains as well as 18 groups of parallel goods traders, according to Legal Daily.
Professors who have been studying the parallel goods trade for years said that it is challenging for both the government of Hong Kong and local authorities in Shenzhen to cooperate to fight the trade, as they operate under different legal systems.
Although the number of parallel goods traders from the mainland has fallen greatly since 2014, the crackdown hasn't had much effect on traders from Hong Kong, said Lin Jiang, a professor from Lingnan College at Sun Yat-Sen University.
However, one fundamental cause of the parallel goods trade is that "many mainland residents still consider goods from Hong Kong to be cheaper and of higher quality," Lin told the Global Times Wednesday.