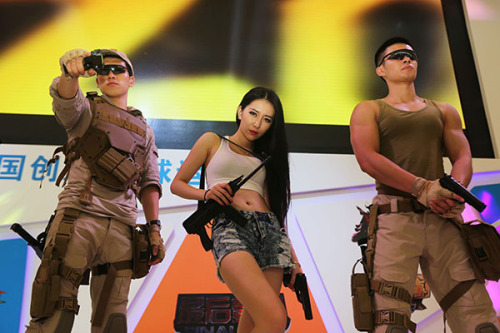 A showgirl and two male models in camouflage uniforms represent a war-themed video game at the 2014 China Joy event at the Shanghai International Expo Center. (China Daily/Pu Xiaoxu)
Organizers of an annual games expo are hoping that attention this year will focus on the event itself, rather than the showgirls on view.
Following a cover-up order imposed on models at China's premier auto show in April, organizers of the China Joy event have introduced strict and detailed regulations on models' costumes this year, ruling out nude appearances or revealing clothing.
China Joy, the nickname for China Digital Entertainment Expo and Conference, is being held in Shanghai from Thursday to Sunday. The annual event has been running for 13 years. It introduces the latest games and technological breakthroughs to players and the market, but over time has featured female models wearing revealing clothes to attract a wider audience.
Regulations introduced this year state, for example, that female models' chests should be fully covered by opaque material and models should not reveal large areas of the back. Neither can they reveal their navels or hips. If a model breaches the regulations, she and her company will face heavy fines.
The organizing committee said on its website: "Showgirls are an important component of China Joy, but they are by no means the essence of the exhibition. We feel obliged to reiterate the purpose of the show and help players to experience more games."
Zhao Yue, 21, will represent Beijing-based Longtu Game. Compared with the previous two shows she has attended, the costumes she will wear are markedly more conservative.
Zhao said her T-shirt neckline is at least 10 centimeters above the chest and her dress stretches below the knee.
"For us, the stricter rules are a real blessing. Overly revealing costumes in previous shows did us no good," Zhao said. "Some men came just to look at our bodies, rather than for the games. So I am in full support of the new policies."
Chen Jiyuan, 23, will be displaying Alibaba's set-top boxes this year. She says models for the company will wear bathrobes revealing some areas of the collarbone, without violating the regulations. Bunny girl outfits have also been prepared for the models as a replacement.
Due to the stricter dress code, many companies have reduced payments for showgirls, saying the models will not be that eye-catching this year.
Shao Xiaomeng, 25, who has appeared at the past three China Joy events, says this year's will be the least profitable for her.
"I am the leading model for Blizzard this time. Most leading models at previous shows were paid between 1,500 yuan ($241) and 1,800 yuan a day, with the higher-rated ones getting 2,000 yuan every day. But for this year's show, 1,500 yuan seems to be the ceiling," she said.
Given that revealing clothes are forbidden, models began preparing for this year's event earlier, with some considering plastic surgery.
Shao said: "It is not unusual for showgirls to have plastic surgery before the exhibition starts.
"This year, we have seen more hospitals placing advertisements aimed specifically at China Joy models. Some of them offer special prices to the girls if they come in a group."