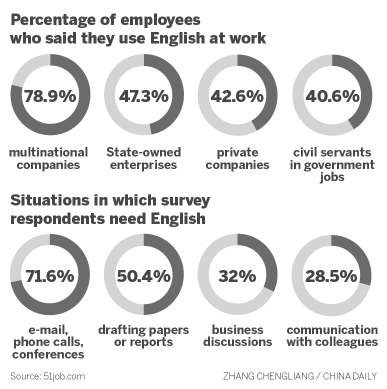 The use of English is expanding in workplaces across China.
According to the Chinese recruiting website 51job.com, multinational companies still top the workplaces at which English is needed. Nearly 79 percent of employees who work for such companies said they use English on the job.
But the recruiter also found growing use of English in unexpected places. More than 47 percent of employees at State-owned enterprises, for example, said they use English at work.
Zhang Meng, 33, an online games analyst who lives in Beijing, said he needs to use more English as his company is expanding its business to the United States and Europe.
An employee at a ministry-level government agency, who only wanted to be identified by the name Yang, is taking English classes because his fluency is falling short of the needs of the job.
"In the past, we only had a few occasions to speak English, and we all relied on professional interpreters," Yang said. "However, with the increase of daily interaction with overseas officials and government departments, we need to deal with more situations in English."
The online survey, which polled 2,034 workers, also found that more job seekers would like to apply for positions requiring English-language skills at work. This was especially true for those with bachelor's and master's degrees.
Nearly 62 percent of respondents said they would like to choose jobs that need English skills. However, language skills do not necessarily guarantee the promotions and high salaries they once did.
While more than 84 percent of respondents from first-tier cities said work promotions could be affected by English skills, 51job.com also attributed promotions to location and opportunities.
"There are more employees with good English skills in first-tier cities and multinational companies. However, there are also more opportunities in first-tier cities and multinational companies than other places," a summary accompanying the survey said.
"For those skilled employees, English is only one of their competencies, but it is one skill that can be noticed easily. So many people wrongly believe that it is English that brought a promotion."
Feng Lijuan, a human resources expert with 51job.com, said English is no longer a superior expertise, but a common skill in the workplace.
"With the overall levels of English in the job market, the competitiveness of English skills is undermined," Feng said. "For certain jobs, the English skills requirement is very limited. For employers, they also need to evaluate other skills employees have, which cannot be replaced by language."