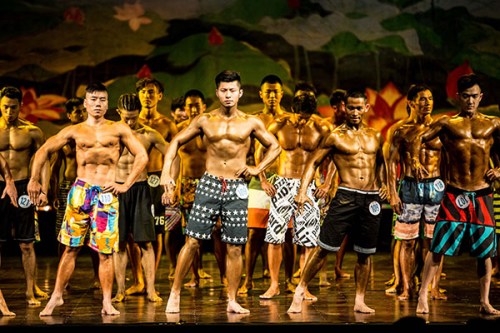 Contestants take part in a bodybuilding contest in Hangzhou, Zhejiang province. (Photo/China Daily)
What makes Chinese men tick? That question has received attention not only from scholars, but from advertising and media professionals, too, because anyone who can answer it will have a gold mine of marketing data on their hands.
Masculinity studies have developed greatly over the past 30 years, fueled initially by the feminist movement of the 1960s and 1970s that propelled gender onto media and scholarly agendas, said Derek Hird, a senior lecturer in Chinese Studies at the University of Westminster in London.
The field has expanded to include numerous perspectives from scholars from many different backgrounds, looking at masculinity everywhere since Anglophone sociologists formulated theories on the matter in the 1980s, he said.
"In the 1990s and 2000s, Chinese scholars based in Western universities began to write about masculinity in Chinese film and historical and contemporary Chinese fiction," Hird added.
"In the past five or 10 years, more studies of Chinese masculinity have appeared from a variety of scholars based in and outside China. This has helped continue the trend of investigating the lives of different kinds of Chinese men."
Felicia Schwartz, founder and director of China Insight, a consultancy, said: "Businesses that do not study the Chinese men may want to implement a Western strategy based on the wants of Western men or may just make assumptions about Chinese men.
"In a fast-moving market such as China, it's important to keep a finger on the pulse of what motivates and appeals to one's target consumer."
Advertising and media businesses are among the most keen to learn about the Chinese male market and its tastes, Hird pointed out.
"Businesses often look for a magic bullet that can help them crack the market, such as a straightforward keyto understanding Chinese men," he added.
"But masculinities are multiple and diverse, so the reality is more complex."
"The value of our research is that it encourages businesses to appreciate this diversity and complexity, and to recognize the particular historical circumstances that have shaped, and continue to shape, Chinese masculinities in dynamic ways.
"It helps them realize that Chinese masculinities cannot be taken as interchangeable with masculinities in Western countries or reduced to simplistic stereotypes," Hird said.
Schwartz said Chinese masculinity is not only different from its Western counterpart, but is also evolving rapidly, splitting into myriad sub-demographic groups.
"The speed of China's development means that there is a much more accentuated difference between men of varying ages, whereas a five-year difference, for example, is not considered as crucial in the West," Schwartz said.
China is huge and diverse geographically, Schwartz added, but "when targeting the 'Chinese man', one has to be clear whether one is targeting the urban male in a first-tier city or perhaps a wider target that might include lower development tiers and even rural areas".