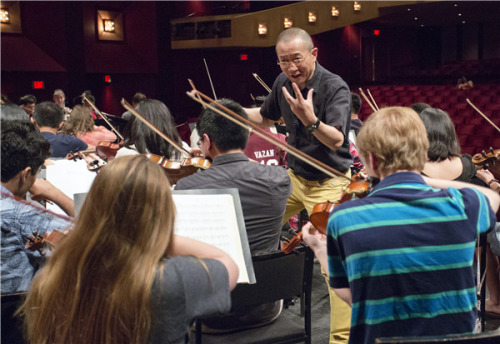 Tan Dun conducts the National Youth Orchestra of the United States during a rehearsal in New York this month. (Photo by Jennifer Taylor/For China Daily)
Wang Yibiao seems jetlagged in the Grand Hyatt Beijing's lobby at 6 pm, after his 14-hour flight from New York. But the 17-year-old flutist says he's thrilled to tour with the National Youth Orchestra of the United States of America because it's his first time to perform in his homeland.
His sentiment is shared by NYO-USA percussionist Karen Dai, who also looks forward to playing for relatives in her motherland. The 17-year-old moved to the United States when she was 10 months old.
The NYO-USA is a training program founded in 2013 by Carnegie Hall through its educational arm, the Weill Music Institute.
This summer, 114 music students aged 16 to 19 from 37 US states joined two weeks of intensive preparations at State University of New York's Purchase College for a concert at Carnegie Hall on July 11. The next day, they headed to China to start a seven-concert tour in Beijing, Shanghai, Suzhou, Xi'an, Shenzhen (July 23), Guangzhou (July 24) and Hong Kong on July 26.
The NYO-USA in Beijing also signed a cooperation memorandum with the National Center for the Performing Arts. The institutions will develop educational programs, and the NCPA's orchestra will perform at Carnegie Hall in 2017.
It's the first time for many students to fly, says Carnegie Hall's public relations director Synneve Carlino.
"It's a bright, brilliant and interesting initiative of Carnegie Hall," says Charles Dutoit, who conducts the orchestra's Carnegie Hall concert and China tour.
"This education program is really a top thing. They have great coaches. For example, the violin coach is Robert Chen, the concertmaster of the Chicago Symphony, and he is from China. Those coaches and tutors prepared the orchestra well."
The maestro also conducts the Verbier Festival Orchestra, composed of young professionals five to 10 years older than these students.
The NYO-USA's third edition includes 25 students with Chinese ancestry.
"They not only perform musically at the highest level but also serve as musical ambassadors for their country," Carnegie Hall's executive and artistic director Clive Gillinson says.
"The orchestra's debut tour to China is undoubtedly an opportunity for musical and cultural discovery."
Wang, who's from Beijing, started to play keyboard at 4 and the flute at 7.
After moving to the United States in 2007, he enrolled in Juilliard's college-prep program. He'll go to Columbia University in the fall.
"I spend one hour practicing every day-half an hour physically playing and the other half thinking of music," Wang says.