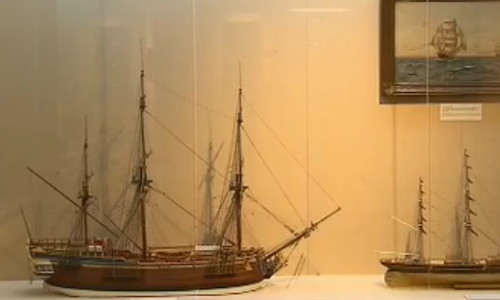 Exhibition showcases ancient maritime technology
The compass is one of the Four Great Inventions of Ancient China - along with papermaking, gunpowder, and printing. Its place in maritime navigation is celebrated at a new exhibition in Shanghai, along with the British timekeeping device that finally gave mariners the means to measure longitude more than 400 years ago.
A British carpenter and clockmaker invented this device, the marine chronometer, in 1730 to help sailors calculate their longitude.
And this replica of the original machine is one of 30 items on loan from the UK and Netherlands for the special exhibition named "Sail to the World". Items including ship models, sailing maps as well as different tools used for navigation offer a look at the world of sailing and navigation in the 17th century.
"The early navigating countries like Spain and Portugal explored many unknown sea areas and arrived at Asia. But the later strong navigating countries like the UK and Netherlands have experienced a more comprehensive development, including the skills in manufacturing ships, navigation, international trade, as well as colonization," said Wang Huanli, Curator of Sail to the World.
The exhibition also looks at China's ancient Maritime Silk Road. Chinese-made compasses and oars were transported to the west and had a great influence on their navigation work. And many Chinese goods were traded from the east to the west. Organizers of the show say visitors can learn from history and further boost the development of the current "one belt, one road" initiative.
"Our country missed a precious opportunity of maritime development, as the authorities in the Ming and Qing dynasties banned maritime trade repeatedly. Now, our government has raised the topic of the Maritime Silk Road again. It is an effort to learn from maritime tradition, develop new maritime technology, and deepen cultural and economic cooperation," Wang Huanli said.
The 21st Century Maritime Silk Road was proposed by President Xi Jinping in 2013, together with the Silk Road Economic Belt. It aims to revive ancient trade routes between Asia and Europe. The network passes through more than 60 countries and regions, accounting for a total population of 4.4 billion.
The exhibition will run until November at the China Maritime Museum.